Faulty or damaged pressurized tanks can kill. It is imperative to follow safety guidelines when welding pressurized tanks.
Is it safe to weld an air compressor tank? Yes. To safely weld an air compressor tank, you must:
Consider the thickness of the tank wall.
Assess the condition of the air compressor tank.
Choose the right welding technique for your air compressor tank.
Air compressor tanks are universal machines in many places. There are many reasons why you might need to weld an air compressor tank. Considering all of the safety precautions and specifications for air compressor tanks will help you to weld it correctly. Read on to find out the steps and precautions for welding an air compressor tank.
How to Safely Weld an Air Compressor Tank
To safely weld an air compressor tank, you need to consider a few specifications and precautions about the pressurized air tank that you will be working on. The most important things to consider when welding an air compressor tank are the thickness and type of the metal of the tank. You should also assess the condition of the air compressor before you start to work on it.
After that, you can decide whether you can safely weld on the pressurized tank and which method of welding you should use. The most common welding techniques for an air compressor tank are: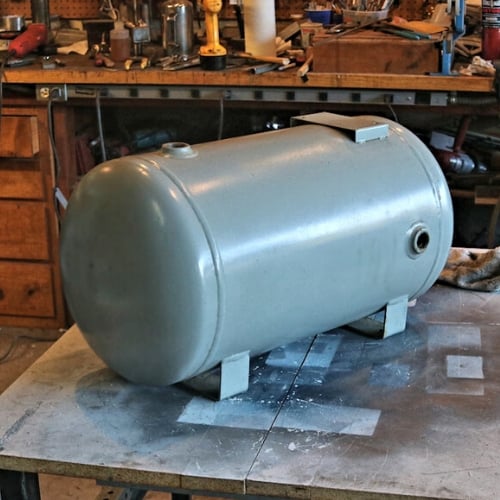 Thickness and Type of Metal of the Air Compressor Tank Walls
The thickness of an air compressor tank wall will help you to determine the best welding technique to use for the particular thickness as well as the max allowable stress of the metal used in the air compressors walls.
The typical types of metal used in the wall of an air compressor tank are listed below:
Steel with a powder-coated layer: The steel that makes up the walls of the air compressor is sturdy, and the powder-coating that is usually sprayed on air compressor tanks is to keep the oxidation from forming on the outside of the tank. The average pressure that an air compressor tank with powder-coated steel can handle is 200 PSI with 1/8 inch walls. These specifications are similar to painted steel.

Type of welding best for steel with a powder-coated layer: GTAW is an excellent choice for thin-walled steel air compressor tanks with powder coats on the outside. The GTAW welding process requires less amperage and produces broad power that will not penetrate with too much heat that may damage the powder coat.
Primed Steel: Primed steel is very similar to the steel with a powder-coated layer, only it has an additional primed layer. These steel walls with primed material can handle enormous pressure of up to 600 PSI with 1/4 inch thick tank walls.

Type of welding best for primed steel: Plasma welding is a highly technical and precise method of welding that is great for the range of around 1/4 inch thick metal. The walls of an air compressor cannot be compromised during welding, and the incredibly sensitive plasma torch weld allows for maximum control of the depth of the root weld.
Fiberglass air compressor tank: You can bond things to a fiberglass air compressor tank; however, you should never use extreme heat or welding on fiberglass air compressor tanks. Instead, use epoxy specially designed to bond to fiberglass. Some popular epoxy products are listed below:

TotalBoat Polyester Fairing Compound: Many boat epoxies and resins are great to use on almost all fiberglass materials. Air compressor tanks can be fixed and fabricated using stable compounds like this TotalBoat polyester epoxy.

USC Premium Fiberglass Cloth & Resin Repair Kit: Many epoxy and resin patch kits come with material to adhere to the layers of the tank you are repairing. This allows for the fresh epoxy to hold something substantial in place to keep the repair secure. The USC Premium Fiberglass Repair Kit has all you need for large or small repairs on your fiberglass air compressor tank.

3M 3004.7849 Fiberglass Resin: One of the most durable epoxies on the market, the 3M product can be used with a fabric mold or be applied straight onto the air compressor tank for a stronghold that can hold the psi of your tank once dried.
Condition of the Tank Before You Start Work on It
There are a few precautions that you should take before deciding to patch up or weld the tank of your air compressor. Some air compressors may be beyond repair or are not safe to weld.
Some of the most common precautions to consider before welding your air compressor tank are listed below:
Was the moisture in the tank routinely drained? Moisture in the air compressor tank accumulates during use. If this moisture is not emptied after use, it can cause oxidation and weakness from the inside, making any welds that you do become unstable.
Is there oxidation or dents on the outside of the tank? Oxidation is a sign that the air compressor was not well cared for. Some forms of welding, such as KTIG and TIG welding, are not to be used on dirty or oxidized metal surfaces. Also, dents on the tank can cause internal fractures that might be weakened by welding.
Is there leaking fuel or oil on the outside? A sure sign that the air compressor has seen better days is the leaking of oil or fuel. This can also be extremely dangerous if you are thinking of welding the unit. Fuel and oil can be ignited with welding flames and cause a fire. Never weld on unwashed surfaces that contain oil or fuel residue.
Air Compressor Tank Safety >> Check out the video below
Choose the Right Welding Technique for Your Air Compressor Tank
The three types of welding that are most commonly used to weld air compressor tanks are detailed below. These three standard welding methods are:
GTAW
The method of welding with GTAW is similar to the TIG welding model. The TIG process can be done by hand and is very similar. GTAW and TIG offer lower amperage welding for thinner-walled tanks and tanks that have painted or powder-coated outsides that should not receive high levels of heat.
Plasma
Plasma welding is a highly specialized type of welding that is extremely precise. The plasma process of welding should be used for tank wall widths of up to 10mm but can be used on walls as thin as 2mm with filler over the top of the weld. This precision allows for versatile welding on fragile metals.
K-TIG
K-TIG welding is for thicker metal materials and can be used on metal tank walls of air compressors over eight times thicker than what the GTAW welding method can handle. K-TIG resembles the process of TIG welding but can be done at nearly one-hundred times the speed. The speed is due to the automation of the welding process that some companies use for large pressurized tank welding projects.
In Conclusion
Metal walled air compressor tanks can be welded safely. The thickness of the wall and the condition of the tank are essential to consider to determine if the tank is safe to begin welding on and to decide which process of welding that you should consider.
Thinner walled air compressor tanks can be welded by amateur welders by hand. However, thicker-walled pressurized air compressor tanks should be done with the automated K-TIG welding method, which is usually only available through welding companies.
If you can follow these specifications and precautions and never weld a fiberglass air compressor tank, you should be able to weld your tank safely.
Sources:
(Max Allowable Stress-Engineers Edge)
---
Here are some of my favorite tools & equipment´s
Thank you for reading this article. I hope it helps you find the most recent and accurate information for your welding project. Here are some tools that I use daily and hope you´ll also find helpful.
There are affiliate links, so if you do decide to use any of them, I´ll earn a small commission. But in all honesty, these are the exact tools that I use and recommend to everyone, even my own family. (NO CRAP)
To see all my of most up-to-date recommendations, check out this resource that I made for you!
Best Overall
Recommendations
+ Great Products & Services
+ Approved
+ Save Thousands of Dollars