Are you looking for the best welders for home use out there?
Look no more we got you covered.
Maybe you're someone who already has a burning passion for welding who's fired up about getting their own home kit.
Whatever the reasons behind your decision to get a home kit, however, you're going to want to make sure you get the right one, which can be trickier than you might imagine.
After all, there are many different home welders on the market, and just as many reasons for and approaches to welding.
You need to make sure you're picking one that suits your needs, tastes, goals, and of course, the type of welding you prefer between MIG, TIG, and Stick.
With that in mind, let's take a look at a few key factors to consider when choosing the best welder for home use MIG, TIG, and Stick welding and see what they have to offer.
Our Overall #1 Rated Pick (Best for most homeowners)
In a Rush? Here you can find our Overall #1 Rated Pick.
The Hobart Handler 140 MIG Welder is the best welder for home use we´ve found.
Purchase: I really like the Hobart Handler 140 MIG Welder. It's not terribly expensive but gets amazing reviews. If you are interested in this, then just follow the link to Amazon where you can see current pricing.
So, without further ado, let's take a look at what makes a good welder for home use, 10 of the best welder for home use on the market, and how you can choose which one is right for you.
Top 10 Best Welders For Home Use
Short on time? Take a look at my top 10 Best welders for home use:
1. Hobart Handler 140 MIG Welder (Best for most homeowners)
5. Goplus MIG130 Welder for Home Use
7. SUNGOLDPOWER MIG 150A Welder
10. C.M.T Pitbull Ultra-Portable
MIG Vs TIG Vs Stick Welding
Now that we have established the different reasons why we weld, let's quickly review the three main welding methods, MIG, TIG, and Stick welding.
Knowing which to choose is one of the most important decisions you'll need to consider when choosing from among the different welders below.
MIG welders are typically the easiest of the three to use. It makes use of shielding gas and an electricity to help heat up an arc and create a way to weld the metal in question.
It is highly versatile and can work with a lot of different types of metal.
That said, TIG is still best for welding steel. It is trickier to use, and typically involves more settings and things to keep track of while welding.
Stick welding, meanwhile, involves touching the welding nozzle to the metal, whereas there is a greater distance between the nozzle and metal in MIG welding.
It is often regarded as the hardest to use, though it does allow for an even greater amount of detailing and control over welding for those experienced enough to harness its power properly.
Taking those basic factors into consideration, let's take a look at 10 of the best options for home usage and determine which is the best welder for home use MIG, TIG, and Stick welding for you.
1. Hobart Handler 140 MIG Welder
Let's quickly get two slight negatives with this model out of the way – it's on the heavier side at 57 lbs, and on the more expensive side at between $800 and $1,000 plus.
However, both of those factors are easily mitigated. Heaviness isn't too much of a concern with home use, since it isn't as though you'll be taking these units anywhere else to weld with them.
Portability isn't at the top of the list of necessary features with these models, so heavy units aren't a huge liability.
✔️ In addition, while anything north of four figures can be a bit much, if you can get this model for around $800 to $900 plus, it will be in keeping with typical market prices for a high-end home unit.
✔️ If you're an experienced hobbyist looking for a good model to keep up with your DIY work, this may be a good choice – but can it keep up with all that?
Well, it certainly has the features to make that case. It features five-position voltage control and a selector that helps you establish a nice, smooth arc.
✔️ This, in turn, can help you weld pieces of varying thicknesses. In fact, you can weld aluminum and stainless as well as mild steel up to ¼ in.
The ability to weld mild steel this effectively is a bit rare among MIG welders, so that's definitely a point in this unit's favor.
If that is a primary goal of yours, this should definitely be at the forefront of the units you consider.
✔️ It also makes use of 115v, which is in keeping with standard household electrical outlets, so you shouldn't have to get an adapter or anything.
You also get contact tips and a dual gauge regulator as well as a gas hose.
All of this makes for a unit that offers a solid MIG welding experience from home. It may be on the higher side price-wise, but it's also definitely in the upper echelon in terms of home MIG welders.
2. Forney Easy Weld 261
Our pick
As stated, since you are using these from home, weight isn't as big of a deal with these welders as portable and workplace units.
However, if you do care about weight, you'll be happy to know that this is one of the most lightweight options on this list at just 19 lbs.
If you are looking for a home welder that you can take with you, chances are you won't be able to find a better, lighter option than this.
✔️ This model is as light and easy on your wallet as it is on your muscles – just around $230. Compared to some of the other options on this list, that's quite a bargain.
Meanwhile, in terms of actual performance, this option can easily weld mild steel up to 1/4 in.
✔️ You have a fair amount of control via an array of settings without there being too many as to cause newcomers to become instantly lost.
✔️ The machine is easily used with a standard 110v outlet while producing averages ranging from around 32 to 140. This, again, is also about average.
If you are, therefore, looking for a decent, streamlined beginner home welder with a low price point that's also quite lightweight, Forney's Easy Weld 261 is tailored for you.
3. Lincoln Electric K2278-1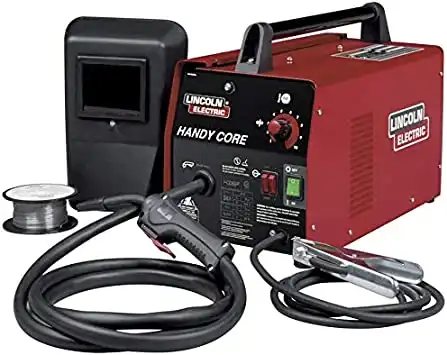 This model is on the smaller side at 8.82 in. x 17.99 in. x 12.8 in., but it weighs 45 lbs. This kind of weighty yet compact model is thus perfect for home use.
✔️ This model can weld 1/8 in. compared to the 1/4 in. that you see in other models listed here. However, it can still be used with the 115v setup that you also see with many of the options on this list.
All of this makes this a pretty handy MIG welder that is easy to set up, fit, and use at home.
✔️ This model offers an output of around 35 to 88 amps. This is on the modest side, hence why it can only weld 1/8 in. If you are an experienced hobbyist, you may want to consider a different, more powerful home welder.
This is especially true if you are looking to weld pieces intended for structural support.
On the other hand, if you are a new hobbyist, this model is easy to use, reasonably small, and the sub-$300 price tag makes this an accessible entry welder.
4. Lotos LTPDC2000D
This is another model that offers both TIG and Stick welding, though it does not come with a foot pedal for the former. However, this offering from Lotos really sets itself apart by including a plasma cutter.
You are going to be hard-pressed to find another model intended for home use, especially at this price point, which sits around $700.
✔️ The plasma cutter makes it possible to cut to 1/2 in. thickness, which isn't a feature you'll find with many other models on this list.
It can operate off of both a 110v and 220v setup, and can give you a huge range in terms of amperage, 15 to 200 amps.
It is worth noting that you may require a 50 amp breaker, especially if you use this at higher amperages.
✔️ All of this taken together makes for a pretty versatile unit. If this model is lacking in anything it's that it does not allow for TIG welding of aluminum.
At 42 lbs, this model isn't lightweight or heavy.
All of this makes this model a good all-around TIG and Stick welding option for those who want a home unit with a bit more oomph and amperage behind it and don't mind the lack of TIG aluminum welding.
5. Reboot Stick Welder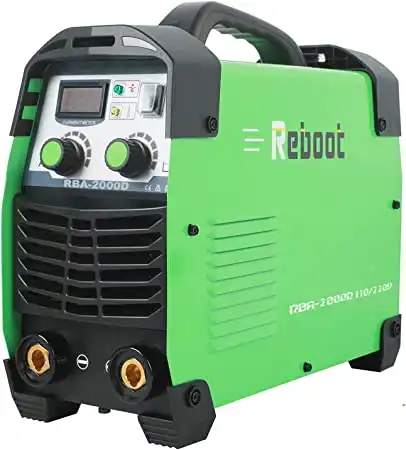 With this model weighing a lithe 13 lbs and a highly compact size at just 14 in. x 6.1 in. x 11.4 in., this is by far one of the most portable options on the market.
Again, these are intended for home usage, but if you are looking to take your DIY show on the road, you won't find an easier option than this.
✔️ Once again you get an option for both 110v and 220v, and yet you are able to use both with relative ease thanks to a streamlined design.
✔️ This model is also incredibly inexpensive at around $130 to just over $200. That said, you get what you pay for. This model is less sturdy than others on this list, and it can have power issues.
However, if you are looking for a lightweight, highly portable and affordable model that can serve as your first home welding unit, this model might be a great budget choice.
6. Goplus MIG130 Welder for Home Use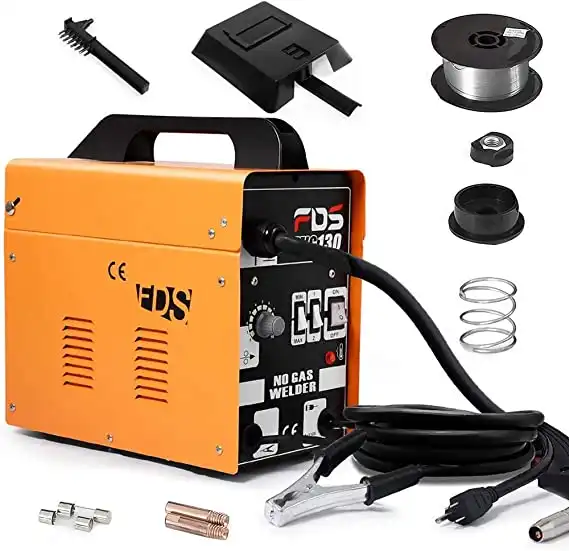 This is another example of an inexpensive unit, and another great example of the idea that you get what you pay for. It is a good introductory welder, but it has its limits.
Compared to other options on this list, it is a lot harder to get a clean bead of good quality. Spattering and unevenness are a lot more common with this model than others on the market.
Still, it comes with a lot of things as a starter kit. From the welder itself to the MIG options that come with it, even though it is more flux core than a true MIG welder.
✔️ What's more, it is advisable not to use the mask and instead purchase your own versions of each from better sellers.
This unit is 35 lbs, and while that isn't the lightest option on this list, it is far from the heaviest, so if you're looking for a portable option, it could work for that.
✔️ It is certainly one of the most affordable options on this list at just around $125, so if you are looking for an extreme budget option this is one to consider.
✔️ It comes with four adjustable levels and 10 levels of wire feeding from a flux core perspective. However, once again, the quality of the weld suffers compared to others on this list.
Ultimately, this is strictly a budget beginner option. You get what you pay for, and this is definitely a lower-end option that does not offer nearly the kind of experience you can or should expect with a more high-priced option.
✔️ Even so, if you are looking for an incredibly inexpensive way to start welding and don't care about the limitations, this might be a good option to try.
7. SUNGOLDPOWER MIG 150A Welder
Yet, again, we have another MIG welder that is available and its biggest selling point is its low price point. It should not cost more than a couple hundred dollars, making this one of the most affordable options on this list.
At the same time, it does not have anywhere near the capabilities of some of the high or even mid-tier options on this list.
✔️ It can run on a typical 110v outlet, though it will need a 40 or 50 amp breaker to actually make it work. The wire feed mechanism is also less than stellar compared to a top-tier unit.
That said, this is still a highly affordable flux core unit. The flux core compatibility comes complete with automatic settings for the feed control, though they are nowhere near as reliable as you would expect for a top-tier unit.
All of this makes it a good low-cost option that can be a fair entry-level flux core unit. As long as you know what you're getting, it can be a good investment, and if you aren't pleased, at least it won't be that big of an expenditure.
8. Hobart 500572 Handler 100
As you can see in the title, this is another MIG welder, and another such option that is designed to be compatible with MIG welding as well as flux core.
✔️ This is basically a 115v version of the Hobart version mentioned earlier, meaning these units are very similar.
One thing to note about flux core here and with other options that make use of it on this list is that it can be a good, inexpensive, low-fuss alternative MIG, TIG, or Stick welding.
The first couple in particular require shielding gasses, which not only require more care and attention to use but naturally add to the cost of operation as well.
Flux core allows you to get started without all of that, allowing you to get started without having to worry about that extra cost or experience shielding gas requires.
✔️ This model shares a similar price point to the aforementioned Hobart. Eight hundred dollars may be a lot of money to spend on a home model when you aren't sure if this is something you are going to want to continue to do.
On the other hand, if you are sure that you like welding and want a decent machine to use for longer-term purposes, this can be a decent choice.
9. AHP AlphaTIG 200X
Here we have another very heavy unit at 69 lbs. Again, however, these units are primarily for home rather than portable use, so aside from setup and hauling it onto whatever surface on which you plan on using this welder, this shouldn't be too much of a problem.
It also has a higher price tag, but not as much as the previous model at "just" about $800.
✔️ This model offers both TIG and Stick welding. Since both of these are more complex welding techniques, that and the price point to this unit being best for those with previous welding experience who are sure that they want to purchase a solid unit for long-term use.
The foot pedal offers a good deal of control over your welding.
✔️ You can run this off of both 110v and 220v, letting you use this with a standard outlet or a more powerful power outlet. It can weld 1/4 in. of aluminum and 3/8" steel, making this a reasonably strong welder that can tackle a variety of projects.
If you are looking for a TIG/Stick combo and are experienced enough to take advantage of that extra capability and power, this may be a good option to consider.
10. C.M.T Pitbull 100-Amp Electric Arc Welder
Last, but not least, we have this 100 amp welder which is another entry in the ranks of incredibly affordable welders at $125.
✔️ It makes use of 110v and a streamlined design, which makes it easy to use. This model does not require any special setup requirements. Simply plug it in and away you go.
It is able to weld mild steel up to 1/4 in., so it can keep up with some of the jobs that some of the other, more expensive units in this list can pull off.
That said, you'll still want to check the capabilities of this model against others to make sure that you are getting the best option possible.
No extra equipment or adapters are necessary, so that's nice. That being said, it isn't suitable for heavy-duty jobs and is more suited to hobbyist crafting than "serious" welding"
Different Reasons to Weld
Let's start at the beginning – why are you interested in buying a welding unit for home use in the first place? There are many different reasons for this, and they're quite diverse.
For example, let's say that you're someone who is absolutely new to the world of welding.
You're likely going to want something that is quite basic and streamlined so as not to overwhelm you and undermine your initial enjoyment and learning with frustration (or, worse, injury).
In addition, you probably don't want to sink too much money into a welder, as you're just trying it out.
On the other hand, maybe you're someone with some welding experience and you're looking for a unit that will allow you to take this hobby into your home.
If this is the case, you'll probably want a few more features. You may be willing to spend a bit more.
What's more, you may want units that have a bit more voltage. While beginning units are typically around 110 volts, as this amperage is easily supported by standard US outlets.
(UK and EU outlets can support higher voltages.) On the other hand, you may want a unit with a bit more oomph (and amperage) and seek out units with over 200 volts.
Finally, you may be a professional welder looking to bring your welding work home with you. This list is mainly for beginners and DIY hobbyists, but hey, maybe you'd like to weld for yourself a little as well.
If so, you'll also be on the lookout for units that walk the line between home-friendly and offer advanced features, and you will likely want a unit that can offer multiple means of welding.
Speaking of which…
Best Welders For Home Use FAQs
Let's close out this page about welders for home use with answers to some of your most frequently-asked questions about them!
Now that we've listed some of the best options for home welding with MIG, TIG, and Stick welding, let's take a look at a few of the questions that can help us cut to the heart of the matter.
1. Is it Worth it to Invest in More Expensive Units?
This is naturally going to depend on what kind of approach you take to welding and, of course, how much experience you have in the first place.
Needless to say, if you are new to welding, you probably aren't going to want to drop hundreds or a cool thousand on a hot welding unit.
On the other hand, if you have more experience and know what you are getting into, it may be worth the money.
But what does all that money buy?
That's the question at the core of the hundreds of dollars' worth of pricing differences that come with this model. If you don't know what you are getting with all that extra money, it isn't even worth spending in the first place.
One of the biggest differences between the lower and higher cost units on this list is the amount of power they use.
Almost without exception, the lower the cost, the lower the amount of power. This means that they are less suitable for doing welding on stronger metals.
This, in turn, determines the type of welding you can do in the first place. If you are looking to weld thick joints together to support a structure, chances are you are going to need a very powerful welder that is able to accomplish this.
On the other hand, if you are just looking to do the kind of welding that is needed for light hobbyist work, less power is needed.
In addition, there is the question of beading. Do you really care how smooth and accurate the beading is? If you are just getting started, you probably don't, and may not even have a full idea as to what beading is and means in the context of welding.
If you are someone with more experience, however, you know that beading refers to the smoothness of the application itself, and you likewise want this to be of high quality. If you'll notice, most of the low-cost options offer lesser beading.
The more complex the model, the more likely it is to be at the higher end of the price curve.
If you value that complexity, and you are looking to engage in tasks that require it or otherwise are experienced enough to want it for your own gratification, then it may well be "worth it." Otherwise, you'll be paying for features you don't know how to use in the first place.
That said, there is an argument to be made that it is better to invest in something you think you can "grow into" rather than having to buy a second unit once you have outgrown the capabilities of the first.
That said, this assumes that you'll be sticking with welding long enough for that to happen in the first place.
Overall, higher prices are only worth it if you are sure that you want to pursue welding at home and if you know and need the things these units offer.
2. Which Is the Easiest Type to Learn with?
This is a far easier question to answer – MIG, though if we expand our trio into a quartet, flux core likely wins the crown.
TIG welding requires you to take a much wider range of settings into account. There is a lot more you need to control, and if you are new to the world of welding, that can feel overwhelming.
If this is not for you, then chances are you want to steer clear of TIG welding. That said, it is definitely true that TIG welding is typically better for steel of different kinds.
If this is the specific metal you need to weld, chances are you'll want to learn how to do it on a machine that is at least in part TIG-compatible.
Stick welding requires a lot more physical engagement with your welding, which can make it much more physically taxing than other models.
MIG has neither of these problems, being typically far easier to use and not as physically exhausting.
However, it does require the use of shield gasses, and when working outside, those can get blown around everywhere, making it near impossible to work.
Avoiding this and sheer cost cutting are the two most powerful incentives behind ditching MIG in favor of flux core welding.
This also has the added benefit of the rods being fed directly and sometimes automatically into the machine, so if you struggle with all of the different settings on a regular welder, this may be the option for you.
Of course, all of that comes in a more simplified package.
3. 110 Volts or 220+ Volts
This all depends on how you plan to power your unit.
If you are looking to power your home unit in the simplest, home-friendliest way possible, then it is the 110v setup you want. This is the voltage level at which standard US power outlets operate.
Going higher than that risks blowing something out.
If you are indeed dealing with something higher, therefore, such as options which run 220v and up, it means that you are working with something that makes use of an external power source which can help provide the extra power.
4. Does Size Matter?
This is an interesting question for home welders, because after all, they aren't meant to be portable. Some on this list definitely are, and others definitely are not.
What decides whether or not that size "matters" and how much and in what way it matters is your own personal taste
If you're buying a home unit and don't care about portability, by all means, buy a beast, as long as you can find a way to mount it and don't expect to move it any time soon.
Home Welder Recommendations
So, at the end of all of this, which models come out on top?
While that always depends on what you're looking for in a welder, the first Hobart, Lincoln, and Lotos models all boast a great deal of strength and do a good job of offering fantastic features.
These are the kinds of models that hobbyists should be excited to weld with. They are consistent and allow for a good amount of control over your welds.
On the flip side, the first couple of these in particular are pretty heavy, and they're mostly in the $700 to $800 price range.
If that isn't for you, and you're looking for something less expensive and more lightweight, there are several units that are below $300 and even $200 on this list, though as we have covered, their capabilities are quite limited.
Still, if you're buying your first-ever beginner welder and want it super cheap, these are the models for you.
There is a lot to think about when buying a home welder.
By following our guide, however, you can avoid being "shocked" while still finding the right "electrifying" choice for you.