Have you ever wanted to know the Personal Protective Equipment – PPE – the welders need to have? According to the Occupational Safety & Health Administrations (OSHA), on average, nearly 562,000 employees are at risk of harm from the chemical and physical aspects of welding each year.
While this number may not seem significant when looking at the overall population, if you look simply at the trade of welding, the number is staggering. The number also sheds light on just how dangerous welding is and why the appropriate protective gear is a must for any welder.
What Personal Protective Equipment (PPE) do you need as a welder? When you decide to learn how to weld, there are many different pieces of PPE that you will need to invest in to ensure you are safe while working, such as:
| Nr. | Body part | Equipment |
| --- | --- | --- |
| 1 | Eye | Safety glasses/goggles |
| 2 | Hair | Flameproof scalp |
| 3 | Arm and upper body | Welding jacket/welding sleeves |
| 4 | Leg | Fire-resistant pant |
| 5 | Hand | Fire-resistant gloves |
| 6 | Foot | Leather spats/leather work boots |
| 7 | Hearing | Earplugs / earmuffs |
| 8 | Lung | Respirator |
ppe equiment for welders
Welding safety is not something to be taken lightly. Before you begin, you must be protected from head to toe. In this article, you will learn about the necessary PPE to ensure you are safe while welding, as well as find highly rated examples of PPE that you can purchase.
Eye Protection
Welding is hazardous for the eyes because of the bright light that is emitted during the process of welding. Each year, OSHA has been able to link 5.6% of all construction eye injuries back to welding.
There are four common types of eye protection you may choose to use:
Safety glasses with side shields
Handheld helmet with filter lens
Goggles
Welding helmet with shield
Safety glasses with side shields: It is crucial if you choose to use simple safety glasses that you purchase a pair that has side shields. If the sides are left exposed, it is more likely sparks will be able to reach your eyes and cause damage.
· MAGID Y50BKAFA Iconic Y50 Design Series Safety Glasses with Side Shields
· SolidWork professional safety glasses with integrated side protection
· Titus Retro Style IR Welding Safety Glasses w/Folding Side Shield
When looking at safety glasses with side shields, be sure to check the durability for welding. Not all safety glasses are made the same, and some may not be able to provide enough protection. The average cost for safety glasses with side shields is between $12-$15.
Safety Goggles: Welding goggles are going to provide a more secure seal against your face than typical safety glasses. You will also notice there is a band that goes around your head to ensure a customized fit. They are a bit bulkier than standard safety glasses, so you may not feel as comfortable in them.
· YESWELDER True Color Auto Darkening Welding Goggles
· T&B New Colored Diamond Lens Vintage Steampunk Goggles Glasses Welding
· Hobart 770095 Welding Oxy-Acetylene Goggle – Flip Front
· Welder Glasses Solar Automatic Dimming Professional Eye Protection
When looking at welding goggles, there are several price points that you will notice. Typically, the features provided for each pair of goggles reflect their price. You can plan to spend between $8 – $150.
Handheld Helmet with Shield: There are options for welders that involve a handheld apparatus that helps protect your eyes and face. This is a great option when you are preparing to do a quick weld job and don't want to put face gear on.
· Shark 14316 Economy Handheld Welding Shield
· Anseal Handheld Welding Mask, Manual Adjustable Lens Color Anti-Glare Welding Grinding Welder Safety Protection Face Mask
· Sellstrom S25000-10 Welding, Handheld Iron Mask with Shield
Each of these handheld helmet options come equipped with a shield to protect your eyes from the light emitted by your welder. You may need to check the level of protection each shield provides to ensure you are fully protected. The cost of handheld helmets ranges from $9 – $16.
Welding Helmet with Shield: Some welders prefer to wear an entire helmet that covers not only their face but also their head as well. This option will eliminate your need for a skull cap and alternative eye protection, so you may find it to be a more economical solution when purchasing equipment.
· YESWELDER Anti Fog Up True Color Solar Powered Auto Darkening Welding Helmet
· DEKOPRO Welding Helmet Solar Powered Auto Darkening Hood with Adjustable Shade
· Jackson Safety Durable, Comfortable, Hard Hat Adaptable, Fixed Shade W10 HSL 100 Welding Helmet
· Jackson Safety Insight Variable Auto Darkening Welding Helmet
Because welding helmets offer a significant level of protection, you can expect to spend between $40- $1,200. When you begin looking at helmets in the higher range of prices, there are going to be added features to the helmets. Generally, basic helmets are on the lower end of the price spectrum.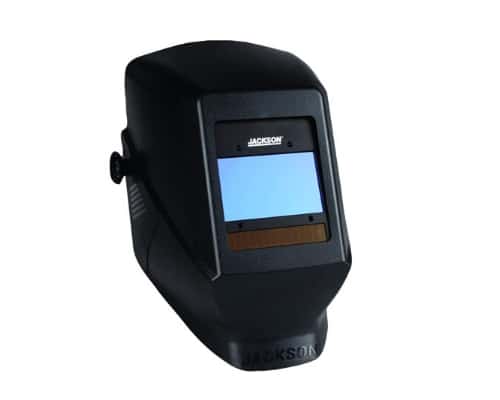 Hair Protection
You may not initially think that you need to protect your hair when welding, but the sparks can fly all over, and the last thing you want is to catch your hair on fire. To ensure this doesn't happen to you, you need to invest in a flameproof skull cap.
Don't just trust a regular hat to offer the protection you will need from the sparks because it will likely fail.
· Lincoln Electric Black Large Flame-Resistant Welding Beanie
· Lincoln Electric K2993-ALL Welding Doo Rag
· Welder Nation – 8 panel Welding Cap
Welding caps come in a variety of styles and patterns so you can find something that fits both your needs and personality. There are hats in the beanie style as well as a doo rag style. The style you choose depends on your comfort level with each. You can prepare to spend $4 – $30 on hair protection.
Arm and Upper Body Protection
Arm protection is crucial. If hot sparks fall on your skin, you can experience severe burns. You must protect your arms and upper body. There are different ways to protect your arms and upper body.
Your level of comfort will determine the type of protection you choose to use.
The most common types of protection include:
Flame resistant long sleeve shirt
Welding Jacket
Welding Sleeves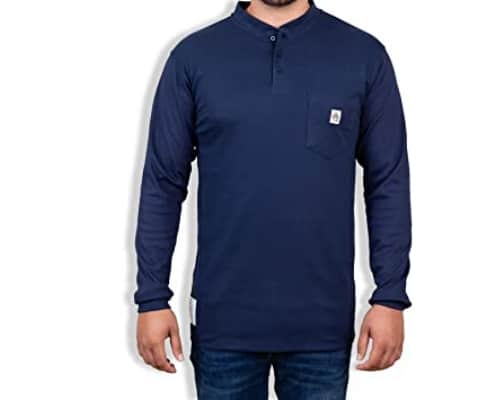 Flame resistant long sleeve shirt: You must keep your arms covered during the welding process. Knowing temperatures can be hot in the summer months, you may opt to wear a long-sleeved t-shirt. This is an okay option, but you need to make sure it is fire resistant, so you don't accidentally burn through the fabric.
· Titicaca FR Workwear Flame Resistant 7oz 100% Cotton Men's Pre-Washed Long Sleeve T-Shirts
· Fire Resistant Cotton Long Sleeve Henley – FR T-Shirt – Welding Shirt Light Grey
· Ur Shield Fire Resistant 7 oz. Cotton Long Sleeve FR T-Shirt
Each of these long sleeve shirts is quite basic. There aren't any bells and whistles, and most importantly, there aren't any pockets. Pockets can be dangerous when welding because a spark can fall into your pocket and cause a significant burn to occur.
You can plan to spend between $20- $70 for a long sleeve shirt.
Welding jacket: If long sleeve shirts aren't your thing, you may wish to purchase a welding jacket. Welding jackets are specially made to withstand the sparks welding can throw at them. They offer cover for your arms and torso, all the way up to your neck, so sparks don't accidentally fall in the neckline.
· Lincoln Electric Premium Flame Resistant (FR) Cotton Welding Jacket
· Magid SparkGuard Flame Resistant 12 oz. Cotton Jacket
· QeeLink Leather Welding Work Jacket Flame-Resistant Heavy-Duty Split Cowhide Leather
· Jewboer Durable Leather Welding Jacket Long Heavy-Duty Welding Clothes Coat
· Waylander Welding Jacket Large Split Leather Heat Fire Resistant Cotton Kevlar Stitched Cowhide
Welding jackets come in cotton or leather. The temperature you work in may determine the material you choose to purchase. Both are durable and fire-resistant. You can expect to spend between $40 – $90 for a quality welding jacket.
Welding sleeves: If wearing a full jacket isn't something you are interested in, then perhaps you would be happy with a pair of protective welding sleeves. The sleeves go up to the midpart of your bicep and down to your wrist. They are cinched at the wrist, so sparks can't go up the sleeves.
· Leather Welding Work Sleeves for Men&Women | Cowhide Leather & Non-stick Liner | Heat & Flame-Resistant Arm Protection
· Lincoln Electric Black One Size Flame-Resistant Welding Sleeves
· Tillman 6200E 23″ Green Welding Sleeves
· Lincoln Electric Welding Sleeves | Split Leather & Flame Resistant
You can purchase welding sleeves in both cotton and leather. Be sure to check the length because some options come in a longer length, while others are one size fits all. You can expect to spend between $6-$30 on a pair of welding sleeves.
Leg Protection
You may not even think about the importance of covering your legs while you are welding, but you must remember sparks will fly everywhere.
The risk of sparks landing on your legs is very high if you don't have the proper protection. The primary type of protection you will use are long, fire-resistant pants.
· Bulwark Men's Flame Resistant 9 Oz Twill Cotton Work Pant
· Men's Flame-Resistant Canvas Pant
· Men's Flame-Resistant Work Pant
· Women's Flame-Resistant Mid-Rise Bootcut Jean
· Flame Resistant Women's Rugged Flex Canvas Pant
There are many different options when it comes to pants. You can choose pants that are cotton twill or denim, all of which have been made flame resistant. It comes down to comfort when choosing pants. You can plan to spend between $40-$100 on a pair of quality welding pants.
Hand Protection
Protecting your hands during welding is extremely important. When protecting your hands, you can't just rely on any random pair of gloves. You MUST have fire-resistant gloves. Some of the gloves you will find are a bit longer so they can go under the sleeve of your shirt.
· KIM YUAN Extreme Heat & Fire-Resistant Gloves Leather with Kevlar Stitching,
· RAPICCA Leather Forge Welding Gloves Heat/Fire Resistant
· WZQH 16 Inches,932℉, Leather Forge Welding Gloves, with Kevlar Stitching Heat/Fire Resistant
· IRONCLAD Welding Leather Gloves MIG TIG STICK GRAIN
· FOOWOO Goatskin TIG Leather Welding Gloves with Kevlar thread
The possibilities are endless when it comes to welding gloves. There are long gloves as well as shorter gloves. You will find gloves made with leather, and others are made with cotton material. Most are stitched with Kevlar, so the seams are fully heat resistant. Be prepared to spend between $15-$30 on gloves.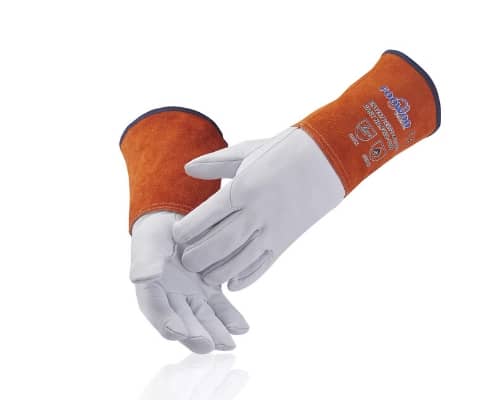 Foot Protection
Welding can be dangerous for your feet, as well. If you accidentally drop a piece of metal or sparks hit your feet, you will be in a world of hurt unless you are prepared with the proper foot equipment.
You will find there are a couple of options to protect your feet.
Leather spats (shoe covers)
Leather work boots with steel caps
Leather Spats: Welding spats are leather covers that go over your shoes to help protect you from sparks that may fall on your feet. Although you are using spats, it is still a good idea to make sure you have a durable shoe under them to offer another layer of protection.
· ZaoProteks ZP3003 Cowhide Leather Heat and Abrasion Resistant Welding Spats
· 11″ Suede Shoe Protector, Long Cowhide Leather Shoe Protector, Heat and Abrasion Resistant Welding Spats
· Steiner 12184 Side Split Cowhide Shoe Spats
You will notice that some spats wrap entirely around your boot with special hooks to keep them in place, while others go up your leg with coverings over the top of your shoe.
No matter which you choose, you need to make sure they will fit over the shoes you are wearing to ensure full protection. You should plan to spend $20-$30 on quality spats.
Leather work boots with steel caps: Work boots are essential for welders because of the protection they can offer. When looking at work boots, you will see different styles.
For welding, it is best to have boots with both a higher top and steel caps in the toes. The height will help protect your lower leg from wayward sparks, while the steel cap will keep your feet safe from falling debris.
· Men's Darco 8″ INT MET Steel-Toe EH-M
· Men's Catalyst VX Wide Square Toe H2O Composite Toe Work Boot
· Men's Revolver Pull-On Steel-Toe Boot
· Women's Echo Waterproof Steel Toe Work Boot
· Adtec Women's Work Boots 9″ Steel Toe Logger
· Women's Echo Waterproof ST/Black Industrial
When choosing boots, it is also essential to have rubber soles. When you are welding, you are using an extremely high voltage piece of equipment. The rubber soles on your shoes will help ground you in case of an accident.
Boots are one of the most expensive pieces of safety equipment you will purchase, but you will be on your feet a lot as a welder, so you want to make sure you have comfortable and safe footwear. You can plan to spend between $90-$250 on quality boots.
Hearing Protection
The noise associated with welding can cause permanent damage to your hearing in a short period. Even if you are only planning to weld for a very brief amount of time, you need to make sure your ears are protected.
You have two options to protect your hearing:
Earmuffs
Earplugs
Ear Protection: Some people prefer to have ear protection that covers their entire ear, while others prefer earplugs. There are many different options on the market.
When making your choice, remember you will be wearing these for an extended period, so comfort is going to be necessary.
Over the ear protection
· 3M Peltor X2A Over-the-Head Earmuffs, Noise Protection
· Fnova 34dB Highest NRR Safety Earmuffs
· Pro for Sho 34dB NRR Safety Ear Protection
In-ear protection
· Bememo 20 Pairs Corded Ear Plugs Reusable Silicone Earplugs
· Howard Leight by Honeywell Laser Lite High Visibility Disposable Foam Earplugs
You can expect to spend between $8 – $25 on ear protection. Most earplugs come with multiple sets because they are disposable, so when you purchase them, you need to take this into account.
Lung Protection
Many fumes go along with the process of welding. Breathing in these fumes during welding sessions can cause significant damage to your lungs. You need to make sure you are protecting your lungs. You can use a respirator to protect your lungs.
· Reusable Half Face Cover, NASUM M101 Face Cover
· Yolococa 2037 Dust Half Respirator
Protecting your lungs is imperative when welding. There are many gases that you have the potential to breathe in that can be harmful to your lungs. You can expect to spend between $20-$40 on a quality respirator
Miscellaneous Equipment
The above list includes the absolute necessary PPE to begin welding. As you continue welding, there will likely be other equipment that you choose to purchase to add to your comfort level and maybe even increase the level of protection.
Two items that come to mind as not essential, but handy to have are:
Leather apron
Knee pads
Leather apron: A leather welding apron will cover both your torso and the upper part of your legs. It is just an apron, so you will still need to have the appropriate full-body covering underneath. A leather apron will cost between $30-$40.
· QeeLink Leather Welding Apron – Heat & Flame-Resistant Heavy-Duty Work Apron
· OLSON DEEPAK Leather Welding Work Apron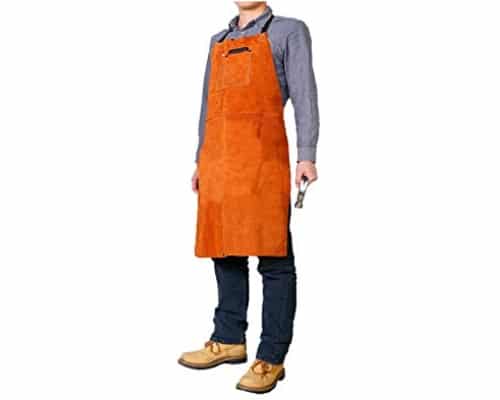 Knee pads: Not all welding will happen with you standing; lots of welding takes place in tight locations that may mean you need to be down on your knees. To ensure you don't injure yourself, a pair of quality knee pads would be helpful. You can expect to spend between $20-$40.
· NoCry Professional Knee Pads with Heavy Duty Foam Padding and Comfortable Gel Cushion
· CLC Custom Leathercraft 313 Heavy Duty Leather Kneepads, Double Thick Lining
· Allegro Industries 6991-01Q Welding Knee Pad with Cap, Leather
Why Protect Yourself Head to Toe?
Perhaps you are wondering why it is so important to protect yourself so heavily, especially if you are doing a quick job. When you weld, you are using a machine with significant power that can injure you very quickly.
According to the article Importance of Safety Gear for Welding, which appears on The Institute of Hazardous Materials Management website, welders are exposed to dangers for at least seven hours a day.
The dangers can be fumes, sparks, metal, heat, and many other things. Because of these dangers, protection is a necessity.
When Should I Replace My PPE?
Welding PPE is different than most PPE because it will likely last for a significant amount of time. There isn't a specific time that can be placed on each item.
However, it is vital to know that if you have not purchased a high-quality item, it will likely need to be replaced sooner rather than later. The best time to replace your welding PPE is when it is no longer able to protect you the way it should.
Final Thoughts
Welding is a prevalent trade, but it is also hazardous. If you plan to spend a significant amount of time welding, you need to make sure you are fully protected, so you don't get injured.
Injuries from welding could potentially be life-threatening and, at the least, life-changing. Do yourself a favor and protect yourself. Get your Personal Protective Equipment – PPE – now!
More Welding Articles
Does Welding Cause Cancer? | How to protect yourself while welding
Do Welders Get Drug Tested? | All Facts You Need To Know
What is Arc Eye and What are the Symptoms?
Is Welding a Hard Job? | All Facts You Need To Know
Do Welders Make Good Money? | Highest Paying Welding Jobs
PPE for welders >> Tutorial video