The career field of welding is a wide one. There are numerous different paths that you can take once you become a welder. This decision depends on what your skills and are how much money welders in each particular path make. Or maybe you haven't entered the welding field yet and want to know if welders make good money before making this career path decision.
Do Welders Make Good Money? If you are a highly skilled welder, who is open and willing to travel far from home, then you could make over 125,000 dollars a year. This number could be higher if you are in a welding field that is considered hazardous or dangerous. 
There are many welding career paths that you can take, and some will pay you more than others. Having this insight before you go out into the field is important. It is also beneficial to know what is required in order to become a successful welder who makes good money.
Highest Paying Welding Jobs
To get a greater understanding of the welding job industry and what type of welder makes the most money, a list of the time is beneficial.
| Highest Paying Welding Job | Min. Salary (yearly) | Max. Salary (yearly) |
| --- | --- | --- |
| Underwater Welding | $54,000 | $300,000 |
| Military Support Welders | $60,000 | $160,000 |
| Industrial Pipeline Welders | $35,000 | $105,000 |
| Certified Welding Inspectors | $70,000 | $105,000 |
Underwater Welder
An underwater welder can be the highest paying welding job. The salary ranges anywhere from $54,000 to $300,000. As an underwater welder, there are the options of going into the oil, gas, military, or shipbuilding fields. Being an underwater welder comes with numerous risks. Not only do you have to weld in the ocean depths, but you also have to know how to use the tools properly while doing so.
With that being said, there is an extensive training program that the welders need to go through before they are cleared to weld underwater. Before becoming an underwater welder, the first step is to be a master welder on land.
You need to have acquired all the necessary certifications. The next step is to enroll in a SCUBA diving school. During an underwater welder's career, in order to get to the pieces that need to be welded, SCUBA diving is required.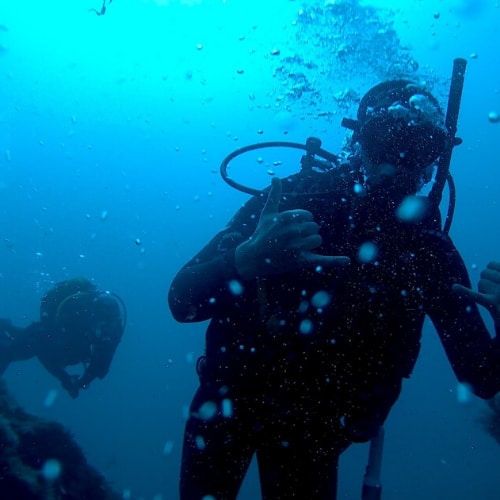 In order to get a SCUBA diving license, a certain number of dives have to be completed. Once this has been passed, you can then practice underwater welding in different scenarios. Depending on what SCUBA diving school you chose to go to, this part of the training could take months.
Once this has been completed, you are ready to apply for a job as an underwater welder.
After you have obtained a job as an underwater welder, it is important to know and realize that you will first become an apprentice called a dive tender. This way, you can learn the ins and outs of the field you chose to go in to.
Here, you can find an article from our website about 7 steps for avoiding electric shock when welding underwater.
Military Support Welders
As a military support welder, you have the chance to earn up to $160,000. These welders are the second-highest-paid welders in the industry. As the military is a wide arena, there are plenty of welding jobs available. Some jobs will be risky, and some are less so.
For example, as a military support welder, you could do anything from repairing and maintaining equipment in the States to welding a pipeline somewhere abroad. Before becoming a military support welder, you have to decide what branch you want to be a part of. Each military branch has different welding needs.
Army: As an army welder, you would mainly be working on the ground. Army welders are usually found in the repair shop and are in charge of maintaining vehicles and other equipment. At times, they also will go out into the field and fix broken vehicles. You will also see army welders building bases.
Airforce: Those who work as an airforce welder are highly trained and skills because they are required to know the specifics of each of the crafts that are used in the military. Most of their time is spent troubleshooting and finishing up the final metal fittings for each craft. In other words, they put on the finishing touches.
Marines: A marine welder is a rare job to find because of the nature of combat they engage in. This type of welder is part of the Military Occupational Specialization team. When they are not welding for the marine branch, they are helping with other projects for other branches. This means that this team needs to be versatile in the welding work they do.
Navy: Being part of the navy welder team is the best place to start if you require more training. There are numerous ships that are in constant need of repair. The navy also has its own welding school in Virginia. After completing this, some navy welders are able to choose a specialization to go in to.
Industrial Pipeline Welders
A welder in this position has the potential to make somewhere between $35,000 to $105,000. The variance is so large because the amount depends on how dangerous of a job it is. Pipeline welders can be found welding pipes in any type of environment, from hot and buggy swamps to frigid rural Alaska areas. As a pipeline welder, you have to be able to contort and position your body is sometimes awkward poses in order to complete the welding job.    
Certified Welding Inspectors
Certified welding inspectors (CWI) have a minimum salary of $70,000, and it will only climb from there. The maximum amount for this position would depend on what company the CWI works for. The CWI is responsible for performing safety checks on all the welds onsite. The CWI needs to ensure that there are no cracks or defects. In addition to this, the CWI is responsible for testing the durability of the material that has been used. There also needs to be documentation reviews and equipment checks.
This job is one of the most sought after welding positions. In order to be qualified for this position, you have to have worked in the industry for at least 5 years. The burden of the CWIs is also larger because if someone gets hurt on the job, then it is the CWI who is usually the one at fault.
With that being said, a CWI has a wider range of fields to go into. They have the flexibility to choose what company they want to work for and where to work.
Average Salary for Welders in the United States
Let's take a look at the financial side of the welding, from the average salary for entry-level welder to the top earners welders in the US:
Entry Level Welding
Look online for articles on entry level welding jobs, and you'll find a lot of conflicting articles on how much you can make. Some will promise you riches, while others are far more cautious. The truth, as is so often the case, is in the middle and more complex than that.
It is certainly true that entry level salaries are difficult across the board nowadays. According to a 2017 Forbes article, while entry level job seekers post-college expect around $50,000, many employers are only willing to offer $45,000 or less.
By contrast, welding is one of the jobs you can reasonably expect to give you a chance at that magical $50,000 entry mark, if only just. This also gets at one of the difficulties of evaluating the economic viability of welding, however – the wide range of salaries. Entry level welders can make anywhere between $25,000 and $50,000 depending on the job and company.
Average Welding
Part of the difficulty in assessing an "average" pay scale for welders is that they work different jobs in different areas. As such, while they work with similar tools and on similar types of metal, the jobs themselves and, thus, the pay you can expect to receive can sometimes be akin to comparing apples and oranges. For example, while the national average salary for pipe welders can be anywhere from $35,000 to $58,000, underwater welding can top the $1000,000 mark.
Those averages can also spike depending on the nature and industry of work.
For example, while the average auto welder can make around $42,500, the top 10% can earn more than $62,100 annually. Meanwhile, the median pay for welders in 2017 as reported by the US Bureau of Labor Statistics hovered around $37,700.
Location, Location, Location
It's the golden rule of real estate, and it can help you strike gold as a welder – it's all about location. Knowing where welding jobs are most in-demand and which states pay the most can make a big difference in your ultimate payday.
Alaska
Alaska is one of the best places in the United States for welders looking for a big payday. There are many welding schools there. Given the prominence and size of Alaska's coastline and the huge shipping and maritime industry there, it should come as no surprise that there are plenty of welding jobs in shipyards.
The Alaskan economy has been relatively stable for the past couple decades, and has remained consistently friendly to welders during that time. It can obviously get pretty frigid up there, but if you are willing to work outdoors in winter conditions, you can enjoy a significant pay raise for doing so.
On average, you can make as much as $66,700 welding in Alaska.
North Dakota
Then there is North Dakota. It's one of the least populous places in the country, but from a welding standpoint, it's one of the most popular places to work. There are so many welders in North Dakota, in fact, that the state holds a Behind the Mask competition for welding students annually. This can be a great way to break into the North Dakotan welding industry. Add to that the fact that taxes and the cost of living in North Dakota are exceptionally well known, and it isn't hard to see why it's a welder's paradise.
The average salary in North Dakota for welders hovers around $54,500.
Wyoming
Wyoming fits right in with that North Dakotan mold of a place that isn't big on metropolitan life, but is huge for welders around the country who come here looking for a good job. With an average salary of around $61,100, it's a good place to get started, especially if you love wide open expanses.
Hawaii
On the other hand, while Hawaii is about as far as you can get from Wyoming and North Dakota, and you'd never figure it for a welding hotspot, it barely edges out both places with a $61,200 average annual salary for welders.
West Virginia
You'll be handsomely rewarded with another great location for lucrative welding jobs. The state averages around $52,000 per welding job, but it's also been experiencing a boom in recent years due to its growing aerospace industry. If you have aerospace-relevant welding skills and want to live in a place with more than enough "Country Roads" to take you home this might be a great place to try.
Nevada
Nevada is known internationally for the glitz and glamor of Las Vegas, but if you want to win the jackpot there you're better off not in front of a slot machine but a welding torch. There are a ton of manufacturing and mining jobs that require welding here, making it a great place to strike gold.
What about the other end of the spectrum? Where are the worst places in the country to weld salary-wise?
Breaking the Northern US welding mold, South Dakota not only fares far worse than its neighbor but ranks as one of the worst states in the United States for welding salaries. Along with Nebraska and Vermont, South Dakota regularly ranks at or near the bottom in rankings of welding-friendly states in terms of salary.
As of Q1 of 2020, the six worst states salary-wise for welding are South Dakota, Nebraska, Kentucky, Georgia, Idaho, and Iowa.
The Benefit of Experience
Wherever you work as a welder, one thing is for sure – experience pays in a big way. While you might barely crack that $50,00 mark as an entry level salary, you should be able to make that and, likely, far more once you gain a few years of experience.
Where you get that experience is another matter, and one more point in favor of starting off in a place such as the good welding states listed above. They not only offer many welding jobs but, as demonstrated, pay well, including entry level positions. That can allow you to hit the ground running and gain the experience you need to really qualify for a big payday down the road with things such as government and military contracts and major corporate jobs.
Paying for Leadership
Closely linked to the benefits of experience is leadership. Big welding jobs need leaders, and the government and companies will pay handsomely for them. To get a chance at welding jobs worth $70,00 and above, you'll want to gain both experience welding and then leadership experience leading and assisting on major projects.
How to Become a Successful Welder
Most of the welding jobs that have good pay only want to fill those positions with successful welders. Welders who have a proven track record of success. There are a few things that you should keep in mind on your way to becoming a welder who makes good money.
Training: Enrolling in and completing a welding program is the first step to becoming a successful welder. Attending a welding school will give you a solid foundation of all of the welding basics. You will be able to practice different techniques and become familiar with all the different tools and equipment.
Safety: As a welder, your number one priority should be safety. This is safety for yourself and the safety of those around you. It is important to have the correct protective gear. This means an apron, a face shield, and gloves. You should also ensure that your tools and materials are handled in a safe manner. Always keep your tools in a secure area when not in use.
Travel: A lot of the welding jobs available are not going to be in the same city or town you are in. As a welder, you should have the flexibility to travel where the work is. You should also want to travel. This is how you will learn about different welding jobs and become a more well-rounded welder. Typically, the welders who are willing to go where the job is, the more money they will make.
More Welding Articles
How Long Does It Take To Learn Welding?
Different Types of Gas Welding Flame And Their Applications