Have you ever wondered which respirators to use when welding galvanized steel? If you are welding, then you are being exposed to fumes. If you are welding galvanized steel, then the fumes can be toxic and dangerous to inhale.
For this reason, you need a respirator. It helps to keep you breathing healthy air, and it is a general safety precaution to keep welders safe.
Which respirator should you use when welding galvanized steel? When welding galvanized steel, you can use:
| Nr. | Respirator types for welding galvanized steel |
| --- | --- |
| 1 | Respirators with exhalation valves |
| 2 | A small gas-mask |
| 3 | Half-mask respirators |
| 4 | Full-hood respirators |
| 5 | A reusable respirator |
Because there are many types of respirators, they all work better for different purposes. This article discusses different types of respirators that can be used while welding galvanized steel.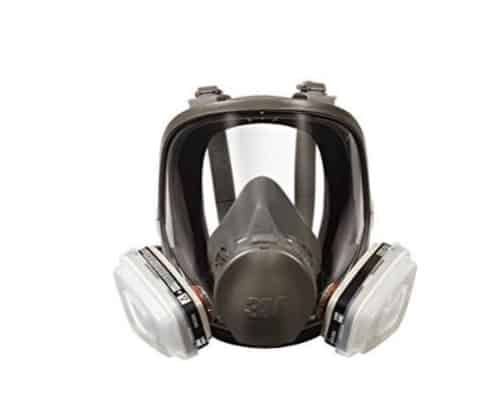 Respirators for Welding Galvanized Steel
The toxic and dangerous gases that are a byproduct of welding galvanized steel come from different places. During the welding process, gases and fumes are released as byproducts of fuels, decomposition, or shielding gases.
So, there are different types of respirators to protect you while welding.
Some different types of respirators are:
Respirators with exhalation valves: Respirators with exhalation valves are especially useful to protect against fumes and particles. These respirators are padded and have a filter, so you only breathe in clean air. The valve opens when you exhale and closes when you inhale. This way, you are not using a bulky respirator, and it works just as well.
Here are some basic respirators with exhalation valves: Mask, Outdoor.
Small Gas-Masks: A gas-mask is much more common to see on a professional welder. This is because it protects you from not only particles in the air but also toxic fumes and gases. They are also reusable, so if they ever get dirty, they can just be washed. They can be a bit bulky in size, but the protection level is excellent.
Learn More About – PPE – Personal Protective Equipment While Welding Here, you can find an article from our website about: Personal Protective Equipment for Welders – PPE | List, and Requirements
Here are a few small and easy to use gas-masks that you could try: 3 Piece, Half Face.
Half-Masks: These are an excellent option for when you are welding galvanized steel. A half-mask covers the mouth and nose with a thick material that filters the air. These are great for welding, as they block the particles and gases that are released. They come in many materials and sizes and often even have filters on them.
Here is a highly-rated half-mask respirator that you can use: PURFUN.
Full-Hood Respirators: A full-hood respirator is another great respirator for welding galvanized steel. It is an entire face, neck, and upper body cover, and it can either be attached to an air source or have its own filter. Because they cover the entire inhalation area in protective material, you are fully protected from any substances, particles, or gases that result from your welding.
Here is a fantastic full hood respirator: Allegro.
Reusable: Reusable respirators are also excellent for welding. This is because they come with space for a filter to be placed in. This way, you can put in a lighter or much more heavy-duty filter based on what you are doing. Once the filter cartridge has been used up, you replace it.
Here are a couple of reusable respirators with filter slots: Face Cover, Facepiece.
Most of the time, you cannot see or smell the fumes that are a byproduct of welding. So you might not even know that you are inhaling them.
That is why a respirator will help you keep safe from inhalation poisoning and death by toxic fumes.
There are many different types of respirators, and what you are doing will determine the one you should use. For welding galvanized steel, using a gas mask or a reusable mask with a nice, thick filter would be best. This is so that toxic particles, gases, and fumes are all blocked.
How Respirators Help
You might be wondering how a respirator is different from just tying a cloth around one's face or even just ventilating the area.
Respirators serve an essential protective purpose and do more than just cover the mouth and nose.
While wearing a mask and covering your airways are great ways to keep safe, they do not do as much as a respirator will.
There are a couple of things that a respirator does that a simple mask will not. Some of these things are:
Prevent contaminants from entering your airways: The first and most important thing a respirator does is prevent contaminants and pollutants from entering your body. It is better to use a tight-fitting and larger respirator, as it better prevents chemicals and fumes from being inhaled.
Related Article: Does Welding Cause Cancer? | How to protect yourself while welding
Filters air: A respirator also filters out the air that you breathe so that you do not inhale toxic fumes. In most respirators, there is a blower in it, which is used to purify your air. The more thoroughly a respirator covers your airways, the better it will help you.
A respirator is necessary, regardless of your opinion, because it protects your airways much better than a mask would. The potential health issues you could face without a respirator far outweigh the cost of using one.
Respirators are not all that expensive, and you do not need a high-end one. A necessary air-purifying respirator is affordable and a necessity when welding, be it galvanized steel or otherwise.
Other Ways to Be Safe
As always, it is best to have multiple plans of action when dealing with your safety. Anything you can do to ensure you are working in a safe environment helps.
So beyond having a respirator, there are some other things you can and should do to ensure your safety while welding galvanized steel.
Some additional things you can do are:
Ventilate: Do not do your welding in a closed space because you are trapping all the fumes and pollutants in with you. Be out in the open or have multiple windows and doors open. This will help to keep the air around you clear and is a great way to get rid of the lingering fumes.
General safety practices: When welding galvanized steel, just follow all the instructions and be safe. Do not skip over any general safety practices to follow while welding. This could increase your chances of something going wrong and toxic fumes being released.
Use high-quality materials: Do not use any rusted or damaged materials. This will result in copious amounts of toxic fumes being released. Not only will harmful materials make your welding job bad, but they also make it very unsafe. Just take care of all your welding materials and use high-quality products.
Related Article: Can You Weld Galvanized Steel? Step by Step Complete Guide
In Conclusion
Your overall safety will ultimately depend on how much effort you are willing to put in to take care of yourself and the environment around you while you are welding.
Being cautious, following safety practices, ventilating your area, and using a respirator will keep you safe and result in excellent welding.
But if you cut corners and do not follow general safety practices, then you are much more likely to inhale toxic fumes.
Even a basic respirator is better than nothing because it helps so much more than you think.
So, always be sure to protect yourself from the byproducts of welding galvanized steel in every way you can because these are the kinds of accidents and deaths that you cannot see coming.
So, the best form of protection is to be completely prepared for every possible scenario. There is no such thing as being over-cautious when it comes to your health.
Source:
dictionary.com/e/respirator-vs-ventilator/
pksafety.com
Recommended Reading
Do Welders Get Drug Tested? | All Facts You Need To Know
What is Arc Eye and What are the Symptoms?
Does Welding Hurt Your Eyes? How Can You Protect Your Eyes
Can You Weld Galvanized Steel? Step by Step Complete Guide
Respirators when welding galvanized steel >> Tutorial video