Welding is the joining of two similar metals through the process of heating the metals to the point that they can be fused together. There are many types of welding processes. Some of them are highly specialized and are used only in certain situations and with specific metals. The two most known methods of welding are arc welding and gas welding.
The Key advantage of arc welding over gas welding is how the heat to fuse the metals is produced. Arc welding uses electricity to generate heat to form a bond between two pieces of metal. Arc welding has several significant advantages over gas welding.
Higher efficiency
Faster production
Better Quality
Portability
Safety
The processes of arc welding and gas welding produce the same results in different ways.  Understanding how arc welding and gas welding differ makes the advantages of arc welding apparent. 
Gaining the knowledge and understanding of the underlying issues in welding will make the decision of selecting the method of welding easier. Below are the differences and advantages of arc welding and gas welding.  
What is the Difference Between Arc Welding and Gas Welding?
All arc-welding processes have 3 main factors in com­mon: a heat source, filler metal, and shielding.
Welding requires the metals to be heated to a temperature at which the two pieces of metals will fuse into one single piece along the joint line. 
Burning Gas
Gas welding produces the heat to raise the temperature of the metals by burning gases.  The two most popular gases used in gas welding are oxygen and acetylene.  When mixed in the proper proportions, this gas mixture can produce heat in the range of 5800 to 6300 degrees Fahrenheit.  This is more than enough heat to melt most metals.
Other gas mixtures can be used, especially for gas welding special metal alloys. However, the oxygen and acetylene mixture is the most prevalent in welding shops.
Plugging In
Arc welding doesn't require gas.  An arc welder produces the required heat by creating an electrical arc between a welding rod and the metal being welded.  This electrical arc generates as much as 15000 degrees Fahrenheit.  The heat generated by an electrical arc is almost instantaneous when the arc is struck.
Arc welding can be performed with both DC and AC current, which can be produced by portable systems or by using electricity supplied by the grid to a fixed shop.  There are several variants on the arc welding process, but DC welding is the choice in most shops.
Why is Arc Welding better Than Gas Welding?
Gas welding with acetylene was first introduced in the early 1900s when the first practical torch was invented. Gas welding provided the first viable alternative to the traditional forge welding that had been done for thousands of years.
It wasn't until the middle part of the 1900s that electrical arc welding became viable.  The introduction of the first powerful DC generators provided the necessary power to generate an arc of sufficient power to fuse metal.
Gradually, arc welding has overtaken gas welding as the predominant method of joining metals in shops and construction sites around the country. There are several reasons for choosing electrical arc welding over gas welding.
More efficient Welding
Arc welding tends to be more efficient than gas welding. Both the methods and the technologies work to favor arc welding in this regard.
Higher operating temperatures – Electrical arc welders produce higher temperatures than gas welding can produce.  These higher temperatures are more efficient at melting metal.  Quicker heating times result in less distortion in the metals. Faster heating also allows welding beads to be run faster for better production times across a job.
Greater cost-efficiency – Upfront costs are higher with electrical arc welding, especially for portable equipment.  However, in the long run, these costs tend to be less than the continued cost of purchasing welding gases and the maintenance of the gas welding bottles and torches.
Produces better welds on a consistent basis – Arc welders by and large produce more consistent and stronger welds than gas welding.  This lowers costs and increases efficiency by preventing the need to grind out and reweld.
Arc Welding is Faster
Typically, production rates for arc welding versus gas welding are better. There are several factors that create this disparity.
Arc welders don't require preheating – Many times, to accomplish a proper weld with a gas welding system, the metals must be preheated to achieve a uniform weld without distortion. Preheating costs time and gas, which lowers productivity.
Higher heat means faster welds – The higher temperatures generated by the electrical arc make it possible to run welds faster.
Setup time is reduced – The setup time is much quicker for arc welders than gas welders. Adjusting gas torches and regulators can be time-consuming. In most cases, the flip of a switch makes an arc welder ready to work.
Creates Better Welds
Electrical arc welders tend to produce higher quality welds than gas welding.  In large part, the quality of the welds is dependent on two factors, the skill of the welder and the temperature that can be generated at the weld site. 
Electrical arc welders generate higher temperatures at the weld site resulting in deeper penetration, a better fusing of the metals, and less distortion in the materials being welded.
Gas welding requires a higher level of skill than arc welding in most cases. A novice arc welder can easily produce a satisfactory weld after some instruction. Gas welding, especially when a welding rod is employed to add metal to the weld, can take years of practice to master.
Portability
Modern gasoline or diesel-fueled portable arc welders make taking the welding shop to the job site quick and easy.  Truck or trailer mounted welding rigs are used in some of the most inaccessible spots that can be imagined from remote areas to the tops of skyscraper construction sites.  There are several reasons that portable arc welders are preferred over gas welding rigs for portability.
Transportation – A truck or trailer mounted portable arc welder eliminates the problems of transporting heavy gas bottles to and from a construction site.
Safety – Transporting welding gas bottles can be a significant safety hazard. Moving high-pressure gas bottles is dangerous. Damage to bottles and valves is common during transportation and can have disastrous results. In some jurisdictions,special permits or licenses are required to transport larger gas bottles.
Run-Times – Portable arc welding rigs can run for hours on a single tank full of fuel. Gas bottles require refilling and changing on a regular basis, which means more downtime and extra expense to transport bottles for refilling.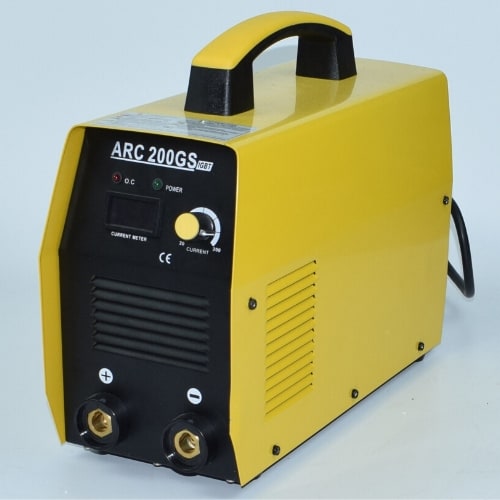 No Dangerous Gases Needed
The gases used in gas welding come to the welding shop in high-pressure tanks with valves and regulators.  Hoses are required to deliver the gases to the torch.  Arc welding doesn't require any dangerous gases, no hoses, and no tanks.  This eliminates the chances of explosion or fire in the work area due to leaks or other damage to the welding equipment.
Arc welding does present some hazards, such as the presence of high voltage electricity.  The upside is that modern equipment includes safety features that protect the operator in the event of a malfunction or an electrical short in the systems.
The Proof is in the Industry
Looking at the construction and welding industry tells the tale on which is the preferred method of welding.  By and large, production shops and large construction sites depend on arc welding.  The industry almost always finds the most cost-effective means of performing a job, and, in this case, the overwhelming evidence is that arc welding is the solution on which industry has settled.
Recommended Reading
Different types of gas welding flames and their applications | Ultimate Guide
9 Different Types of Welding Processes & Their Advantages
How to Arc Weld  >> Check out the video below