Lincoln Electric has been manufacturing electrical equipment since 1895. The first variable voltage arc welder came out of the Lincoln Electric shops in 1911. Lincoln Electric has grown to be one of the prominent providers of electric welding machines in the world. One consideration in choosing which Lincoln Electric welder is the best for your shop is the weight of the machine.
How much does an average Lincoln welding machine weight? The average weight of a Lincoln Electric welding machine is about 1,000 lbs. However, across the range of Lincoln Electric welders, the range cane of weights can be from 15 lbs. to over 1,500 lbs.
To understand how weight factors into selecting a welding machine, you should consider how you are using the welding machine, where you are using the welder, and the types of welding the must perform. Weight can undoubtedly be a factor in each of these situations. Read on to see how determine what weight will work for you.
Why Weight Matters
Any job that requires moving tools or equipment from place to place to get the job completed makes weight a consideration.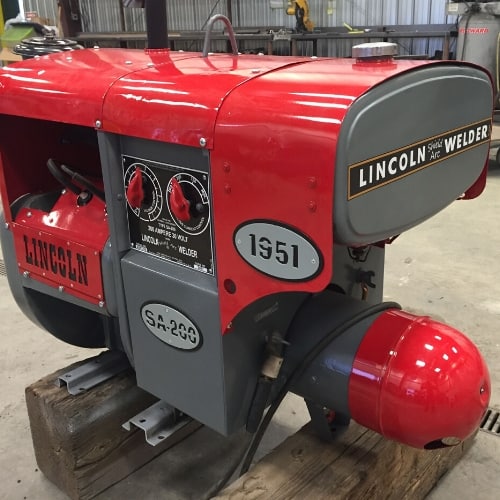 How much does a Lincoln SA200 weight? The average weight of the Lincoln SA 200 is 1200 lbs.
Welders are no different. Some instances where weight and portability become important can include:
Home or hobby use where ease of access and storage is important
Remote worksites without electrical service
Multiple worksites requiring the equipment to move regularly
Elevated worksites where welding equipment is lifted using a crane or hoist
Jobs where space is tight, or the welding machine must be taken into cramped quarters
How much does a Lincoln Vantage 300 Engine weight? The weight of the Lincoln Vantage 300 (Kubota V1505) is 1035 lbs (469 kg)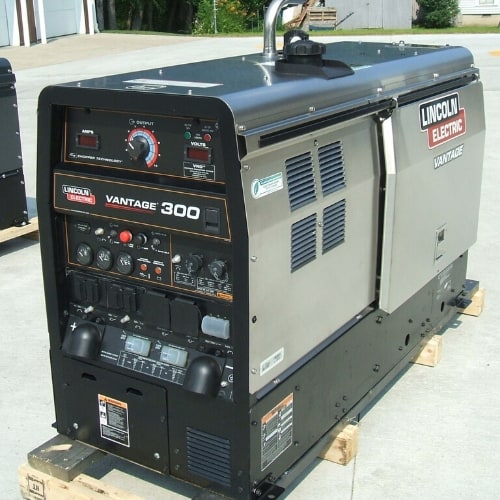 The Lincoln Electric Models
No matter what the application or requirements, Lincoln Electric has a welder designed to meet your needs. From easily transportable models suitable for home and hobby welding to large industrial models designed to remain stationary while the work comes to the welder, Lincoln Electric has a model to fit your specification. In terms of weight, we have classified welders into three categories
Transportable
Shop Portable
Vehicle Mounted
Stationary
Transportable Lincoln Welding Machines
We have defined transportable welding machines as those that can easily be moved by one man from the worksite to worksite. Some are small enough to pick up and carry handily while some mount on rolling tables or carts. These lighter weight models of welding machines offer versatility as a feature.
Invertec Stick Welders
The lightest and most portable of all the Lincoln Electric welding machines are the invertec models. The Invertec line of welders from Lincoln Electric are great little machines for the home or hobby welder who needs to be able to move and store a welder quickly.
Weight ranges from 15 to 54 lbs.
Models available that support stick, TIG, and gouge welding
One model includes a shoulder strap for the ultimate in portable welding
Mig and Tig Welders
If your job requirements are for a portable Mig or Tig welder, Lincoln Electric has those covered as well. The Power MIG and Invertec lines of welding machines are at home in a small hobby shop or a full production welding facility.
Weight ranges from 30 to 71 lbs.
Models include stick and wire-fed welding systems
Both AC/DC and Inverter style welders are available
These small and often lightweight welding machines are the choice for home and hobby welders and some welding shops where lighter welding jobs are encountered. Many shops will keep a small portable unit handy for those situations where tight quarters are encountered during a welding job.
Interesting treading: Do Welders Make Good Money? | Highest Paying Welding Jobs
Shop Portable Welding Machines
In our classifications, shop portable welding machines are those that can be moved around a shop using a variety of methods. Some models of Lincoln Electric welding machines that fall into this category come equipped with wheels or casters to make moving these machines about the shop easier.
Other models are best mounted on a cart or dolly while some need the use of a small crane. These larger models have an attachment point on the welder from which the machine can be hooked and moved.
Wheeled Lincoln Electric Welders
Many of Lincoln Electric Welders move easily using the wheels or casters incorporated into the cabinet of the welder. Some models come with an under-storage cart that provides a place to keep accessories and other tools.
The Power Wave series of process welders' range in weight from 105 to 360 lbs.
Lincoln Electrics IdealArc stick welding machines weigh from 350 to 460 lbs.
If a Mig or Tig welder is a need, these can be found from Lincoln Electric in weights from 245 to over 600 lbs.
The heavier models have a lifting point on the top of the welder that can be used with a forklift or portable crane to reposition the welder as needed. While these welding machines may not be truly portable in the sense of the word, they are designed to be easily moved around a shop or placed in a vehicle temporarily and used in remote locations.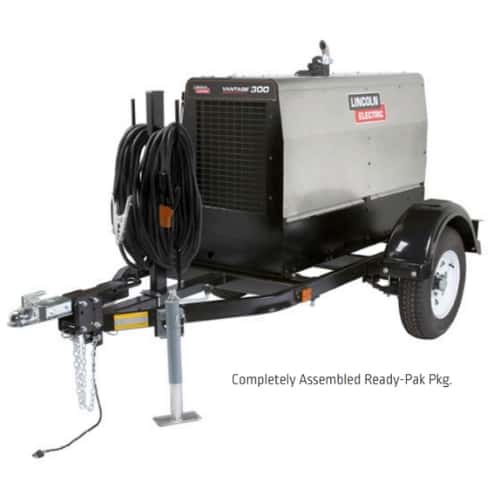 Vehicle Mounted Electric Welders
Going mobile is one of the pre-requisites for many welding jobs. Most of these field jobs require a welding machine that can weld much thicker metal than the portable models. These types of jobs call for gasoline or diesel-powered welding machines mountable on a trailer or truck frame.
Weight can still be a factor in choosing a welder in this classification. More weight on a trailer or truck necessitates heavier axles and frames and can reduce the capacity for other materials and tools.
Lincoln Electric offers a few transportable models that are not meant to be permanently mounted. These typically weigh between 200 and 300 lbs.
Weights of vehicle-mounted welding machines from Lincoln Electric range from 602 to well over 2000 lbs.
You should note that some of these welding machines are not available in the US but are included for comparison.
Stationary Welding Machines
For larger industrial applications or production shops, the welding capacity of the machine requires larger and heavier components to withstand the cycle and duty times. These larger machines meant to be placed where the work is brought to the machine are much heavier and robust than the other styles of welding machines.
In this type of production facility, weight is usually not a factor. The more important considerations are the reliability, functionality, and capabilities of the welding machine to meet the various specifications for the jobs that may pass through the welding station.
Stationary welding machines can weight from 875 to over 2000 lbs.
Some stationary welding machines of this size may require 3-phase electrical service
Specialized equipment and accessories often combine with these welding machines, increasing the overall weight of the unit.
The truth is if you are purchasing a stationary welding machine for your facility, weight is probably not much of a consideration. Once in place, these welding machines usually stay where they are put for the rest of their productive life. However, depending on the construction of your welding shop, weight can be a factor in calculating loads on floors or other structural components of the building.
Making the Choices
Weight is always an issue where transportability is a factor in the job specifications. Knowing the features of the welding machine and the requirements of the welding job are integral parts of deciding on which welding machine can best fit your needs. Striking a balance between power, function, and weight is always the challenge.
In the end, we hope that this look into the weights of welding machines from Lincoln Electric and how the different types of welding machines vary in weight makes the decision-making process easier.
Sources:
https://www.lincolnelectric.com/en-us/equipment/Pages/welders.aspx
Recommended Reading
Can You Weld Black Iron Pipe? – [Safely]
The Process of 4G Weld Testing – How To Pass 4G Welding Test?
What's The Difference Between AC And DC Welding >> AC vs. DC