Welders are trained and skilled artisans who specialize in joining pieces or sheets of metal together. These craftsmen work with different types of metals, including stainless steel, aluminum, brass, and steel.
How to become a certified welder in Pennsylvania? To become a welder in Pennsylvania, you must have at least a high school diploma. In addition, you need to get a diploma or degree in welding and then gain work experience through an apprenticeship program. Finally, you need to get a certification to become a welder in Pa.
There are several requirements for becoming a welder in Pennsylvania. Certified welders can work in different fields in welding. The job outlook for welding looks very promising for those who want to delve into the profession.
Becoming a Certified Welder in Pennsylvania
To become a certified welder in Pa, you must enroll in a welding school and earn the necessary certifications. You also need relevant experience and perhaps teach a few classes in welding to become an advanced welder.
You can acquire basic welding skills through watching and learning from other welders. You can use the skills you learn through apprenticeship to do a DIY welding project or earn a living. However, earning the certification will open up more opportunities for you in the welding industry.
Requirements for Becoming a Welder in Pa
To be a certified Pa welder, you have to go through the following steps:
Get a high school diploma/GED
Apply for a certification program in welding
Gain experience through apprenticeship
Earn a Pennsylvania welding certification
Get a High School Diploma
You can gain basic welding knowledge at the high school level by studying science subjects that directly relate to the craft. An important subject to master is math because welding requires calculations and estimations.
Learn math topics such as algebra if you intend to pursue a welding career. Some high schools provide mini-courses in welding. Such subjects give a basic understanding of welding to students.
Besides providing a foundation in welding, attending such classes helps you decide if you want to pursue this craft as a career.
Study for a Certification Program in Welding
Enroll for a certificate program in welding once you graduate from high school. A certification course runs for 6 to 18 months and comprises practical classes.How much you pay for a welding certificate program will depend on the school you attend. Some schools will charge $3500 for their program while others charge as much as $20,000.
You will be required to sit for a final exam at the end of the studies to earn your certificate in welding. Graduates have the option to pursue an advanced degree in welding. Advanced certification in welding is known as the Welding Technology Associate Degree. It takes two years to study for this course and sit for the final exam.
Find out the cost of the degree program before enrolling in a school. Some campuses will charge $6000, while others charge $55000.
On completion of the degree program, associate degree graduates can sit for a Bachelor's Degree in Welding Engineering. This course takes four years to complete, after which the student will be ready for the job market.
Gain Work Experience through Apprenticeship
Graduates of a certificate program can join apprenticeship right away. This not only helps them gain experience in the craft, but it also allows them to start earning income through welding.
An apprenticeship enables you to learn the latest trends in welding. It also allows you to work with other professionals in the industry so you can network and gain work experience.
Apply For Pennsylvania Welding Certification
Once you gain apprenticeship experience, you can provide welding services in the U.S. However, the state of Pennsylvania requires welders to have certification before they can start their practice.

There are four major certifications programs for welders working in Pennsylvania including:
Certified Welder
Certified Welding Inspector (CWI)
Certified Welding Educator (CWE)
Certified Welding Sales Representative (CWSR)
Certified Welder
You do not need any work experience to work as a certified welder in Pennsylvania. The state only requires you to sit for a Certified Welder Exam. It costs $35 to register for this exam. In addition, aspiring welders in Pennsylvania must sit for this test in an examination center certified by the American Welding Society (AWS).
The AWS is a nonprofit organization that helps create and maintain high standards for the welding industry. They help unite welders and industry in a common cause. The nonprofit has become a popular source for certification and testing in the welding community.
Certified Welding Inspector (CWI)
To work as a certified welding inspector in Pennsylvania, you need to have an associate degree in welding. In addition, you must have relevant experience working as a welder to apply for welding inspector certification.
An aspiring certified welding inspector must be registered with the American Welding Society. As an AWS member, you pay a discounted fee of $850 to sit for the certified welding inspector exams. None AWS members can apply for the welding inspector certification too. It will cost you $1065 to sit for the same exam.
Some of the duties of a certified Welding Inspector in Pennsylvania include:
Providing welding tickets to company employees
Ensuring projects are carried out with the correct welding equipment and accessories
Confirming the specific welding requirements of a project
Inspecting completed welding projects
Suggesting new techniques in welding
Ensure welders comply with health and safety regulations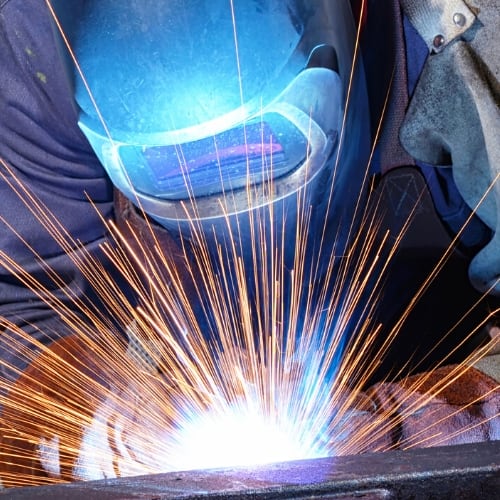 Certified Welding Educator (CWE)
To work as a certified welding educator in Pennsylvania, you have to apply for the CWE exam. In addition, you must prove that you work as a welding classroom teacher either part-time or full-time. Other requirements of a Certified Welding Educator license include:
Must hold a Welding certification or an associate welding degree
Must have a recommendation letter from the school you teach in
If you are a member of the American Welders Association, you are required to pay $635 to sit for the CWE exam. None AWS members are required to pay $850 for the same exam.
Duties of a welding instructor include:
Covering theoretical work and facilitating practical workshop sessions
Teach or instruct occupational subjects in welding- at high school and university level
Provide adult education to teachers and instructors who will be working in industrial settings
Certified Welding Sales Representative (CWSR)
As a certified welding sales representative, one of your duties is to source new technologies that improve productivity, quality, and sustainability of welding processes. Registering with the American Welders Association will open up more lucrative opportunities.
To work in Pennsylvania as a CWSR, you will be required to sit for a State-approved exam. If you are a member of the ASW, you will pay $235 for the CWSR exam. Certified welders who are not AWS members have to pay $355 for the same exam.
Duties of a certified welding sales representative include:
Connecting private welders and large welding companies to new technologies and advancements in productivity
Pitch to manufacturers on new industry standards in welding technologies
We wrote an article listing The Top 10 Types of Welding Certification you need to know. Find the article here.
How can I get a welding Certification Online?
Getting a welding certificate online is a convenient and affordable way to obtain your welding certification. There are many different options for obtaining this certificate so it is important to make sure you pick the right one.
As long as you are taking courses through an accredited college then you are on the right track.
During your online courses, you will learn all the basics and fundamentals of welding.
Once you have completed your coursework you will then be expected to take an exam. When you pass the exam, it is then when you will be awarded your welding certification.
You can take the online course via AWS and it will take around 8 weeks to complete the online course.
On average the cost for the online welding certification will vary between $825 and $1,030.
It's also important to note that completing your welding certification online may not give you the hands-on experience that you need to complete jobs.
Intro to D17.1 Certification | How to Become a Certified Welder >> Check out the video below:
AWS Welding Certification
The AWS is one of the best places to obtain your welding certification online. Their eight-week course provides all the education you need to be a successful welder.
This course will have you go through two-hour online sessions and they will provide you with all the reading materials you need which include:
Seminars
Certification opportunities
Teleconferences
and many other resources.
One really great thing about AWS is that they will also provide you with the materials to learn hands-on while you are sitting through online sessions.
This gives the student a chance to practice more than other courses.
Master Welder Certification: What You Need To Know
A master welder is less of an actual degree title and is more an earned title from years of experience and nearly flawless welds, even in the harshest conditions.
The Institute of Technical Trades does, however, offer courses that require long-term dedication and hard work to help you become a master welder.
There are specific requirements that must be achieved in order to become a master welder, so if this is something you are hoping to become, it's best to get started right away.
With long-term studies and experience becoming a master welder is definitely achievable for anyone and will help to boost your chances of getting jobs and higher pay.
BEFORE YOU DECIDE TO BECOME A WELDER >> Check out the video below:
Job Outlook
How much you earn as a certified welder in Pennsylvania depends on your job description. A certified welding inspector is on a different job bracket from a commercial welder. Commercial welders in Pennsylvania earn an average of $17.68 per hour. Independent welders with more than six years of experience can earn at least $20 per hour.
Welders that work for companies earn between $35 and $40 per hour for projects. In addition, some cities in Pennsylvania have a higher pay rate for welders than others. A certified welding inspector in Pennsylvania earns an average of $60,000 per year. Experienced certified welding inspectors can earn as much as $89,199 yearly.
A Certified welding educator in Pennsylvania earns about $53,000 per year. Experienced welding instructors can earn as much as $60,000 yearly.
Certified welding sales representatives earn an average of $52,000 per year. Top welding sales representatives in Pennsylvania earn as much as $56,000 yearly.
Recommended Reading
Is Welding Easy to Learn? A Beginner's Introduction
How Much do MIG Welders Make? Average MIG Welder Salary
Advantages of Being a Welder >>Salary, Working Hours | Worklife Balance