Knowing a trade is a sure way to give yourself job security and marketability in a wide range of economic conditions, as there will always be a demand to build and fix things. Among the trades, welding offers some of the most lucrative upsides, as there is a limited amount of people who can perform specialized welds. However, there is an investment to learn the trade.
How much do welding courses cost? Welding courses to obtain certificates at local technical colleges and trade schools can be obtained for as little as $300, depending on location. More comprehensive bachelor's degree programs in welding can cost up to $100,000 at out-of-state universities.
As there is a wide range of costs to obtain training as a welder, it is important to understand your goals in the trade. If you already have some understanding of welding and want to get certified to work quickly, the cost of welding courses can be quite affordable. On the other hand, if you are a novice just entering the field, the training costs could be more extensive.
Cost of Welding School
Welding school tuition fees vary depending on several factors including the type of training, length of the program, and state. Typically, welding courses that last from 3-7 months start at around $5,000, while college welding programs may cost an average of $15,000.
Other costs associated with welding school include certification testing fees, application fees, housing and food, and welding equipment. In addition, students may need to purchase their own tools, which can cost an average of $400.
Technical education programs typically offer diplomas and certificate programs that cost less and offer quick turnarounds. However, basic welding courses may not yield professional certification.
How Long Is Welding School?
The length of welding school programs varies depending on the type of training involved. Certificate courses usually last from six to eight months, whereas college welding programs can take up to 15 months to complete.
Underwater Welding School Cost
The cost of underwater welding school varies depending on several factors such as the location, the duration of the program, and the type of certification offered.
On average, tuition fees for an underwater welding program can range from $15,000 to $30,000. However, some schools may charge as much as $50,000 for a comprehensive program that includes all necessary equipment and certification costs.
It's important to note that additional costs such as room and board, textbooks, and supplies may also apply.
As with any educational program, it's crucial to research and compare different schools to find the best value for your investment.
Read also >> Do Welders Make Good Money? | Highest Paying Welding Jobs
Read also >> What Is the Easiest Type of Welding to Learn as a Beginner?
Read also >> Best Welding Schools In Florida [Updated]
Read also >> Best Welding Schools In New York [Updated]
Read also >> Best Welding Schools In Houston – Texas [Updated]
AWS Welding Certification Cost
The cost of AWS welding certification starts at $300 for a single-position plate. However, the cost of welding school varies depending on factors such as location, duration, and type of certification offered.
For example, underwater welding programs can range from $15,000 to $50,000, and additional costs such as room and board may apply.
How Much Does The CWI Certification Cost?
The cost of the Certified Welding Inspector (CWI) exam varies depending on whether or not the applicant is an American Welding Society (AWS) member. As of 2023, the exam costs between $1070 and $1325.
It's important to note that passing the exam requires a significant amount of preparation and prior knowledge. In addition, Atlas offers an online training course for CWI exam preparation, which costs $799.
The cost of AWS welding certification starts at $300 for a single-position plate and the price increases for more complex welding certifications.
When considering the cost of underwater welding school and AWS welding certification, it's important to research and compares different schools to find the best value for your investment.
Cost of Welding Courses for Those Looking for Work
Trade education is different from a white-collar education in that those studying trades are not as interested in a comprehensive, theoretical knowledge base across a wide range of topics. Most usually want to learn a specific skill expeditiously and put it to use—and make money—as quickly as possible in the field.
As such, many welders opt for certificate and associate degree programs that offer low-cost tuition and quick turnarounds from starting the program to going to work in the field.
Therefore, let's look at a leading mid-Atlantic welding institute, Earlbeck Gases & Technologies, to do an in-depth analysis of the cost of welding courses, which should be similar to other welding schools across the nation.
Related reading: How To Become A Certified Welder In California? – All Facts
Read also >> Is Welding Expensive? (Breaking Down the Costs)
Welding Basics Course
This type of class will teach the most fundamental of welding concepts and will not when taken by itself, yield any kind of professional certificate upon its completion. This course will benefit a couple of categories of students:
Complete beginners looking to start a career in the profession: You will need the most general knowledge of the trade to lay a foundation for increased practical training in the future.
At-home tinkerers who enjoy making crafts out of metals: This includes people who may not have any aspirations of doing commercial welding or making money as professional welders.
By completing a welding basics course, the student will gain the following knowledge:
General safety principles that apply to welding
A theoretical understanding of successful welding technique
How to successfully set up equipment for a specified weld job
A basic understanding of how to use MIG, TIG, and stick equipment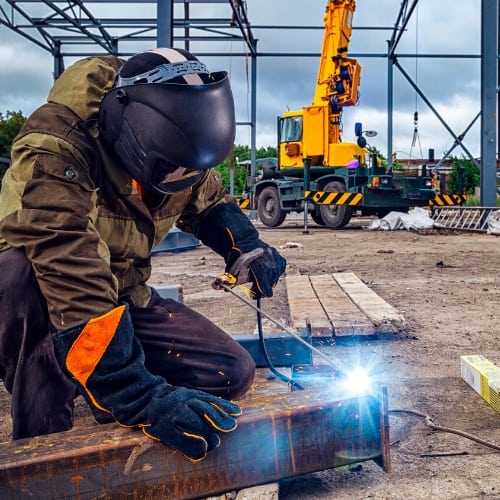 MIG, TIG, and stick are three of the more common welding processes that work to either use a filler metal to join base metals (MIG and stick) or join two base metals together at high heat (TIG).
Cost: $150
Related reading: How to Start & Grow A Welding Business In 11 Steps
Symbols for Welding Course
An important aspect of welding is being able to understand blueprints and design plans, so welders must be able to properly interpret welding symbols attached and embedded in drawings to complete a job successfully.
While this course is not necessary for those at-home or recreational welders, it is essential for those who aim to embark upon a career in commercial welding, as the information obtained will be built upon in future courses and applied in the field.
Aspiring welders will receive a certificate upon completion of this course, commemorating an ability to understand weld symbols, their use, and purpose following the American Welding Society A2.4 standard, which sets the guidelines for industry welding symbols.
Cost: $300
Visual Weld Inspection Course
For the aspiring commercial welder, this is a logical next step in the welder education process. For those who only intend to weld as a hobby, it is a very useful class to be able to determine the quality of existing work.
Visual weld inspection is necessary for the welder because conscientious observation can help save time and money associated with rework costs by identifying areas of need and potential problem areas before undertaking a job.
This course will provide a comprehensive knowledge of weld elements and how certain welds are accepted or rejected by specific base metals, as well as the following:
Fluency in the terms associated with weld inspection
Use of proper gauges and tools to help spot welding defects
Interpretations of discontinuities in a base surface
Although a certificate will be obtained after this course, it does not make the welder certified to inspect welds on a commercial basis, as continuing education and training will be required.
Cost: $300
Fundamentals of Welding Course
While the classes mentioned above are largely theoretical and provide a general, albeit important, understanding of welding concepts, the Fundamentals of Welding course requires the welding student to combine important conceptual knowledge with hands-on practice.
This is a required course for aspiring welding professionals to obtain their licensure and is most likely not a class that hobby welders should choose to enroll in.
This course includes 60 percent hands-on welding practice, giving the student experience in MIG, TIG, and the stick welding technique. In addition to this experience, the aspiring welder will be able to perform the following:
Cut steel, stainless steel, and aluminum with oxy-fuel and plasma equipment
Use the three primary welding processes to perform groove and fillet welds on carbon steel in the flat and horizontal positions
Interpret weld symbols and execute the best weld for a specific situation
Decipher applicable welding codes
Understand common metallurgy
Completion of this course makes the welder certified to start performing entry-level welding jobs in the field.
Cost: $1,700
Specialized Welding Courses
While the classes mentioned above cover a wide gamut of topics and practices necessary for those looking to get to work welding as soon as possible, Earlbeck Gas & Technologies does offer some more specialized courses for those looking to become experts in a specific area of welding.
Intermediate Stick/TIG/MIG – This course provides the student with 48 hours of next-level practice in the specified process. Completing the course gives the student an advanced certificate to perform a wide array of welds on carbon steel and aluminum surfaces. Cost: $2,500
Advanced Stick/TIG/MIG – This course will give the student an additional 42 hours of the most advanced practice in the specified process. Specifically, this course will make welders compliant with the Structural Welding Code and certified to prepare thick base metals for overhead and vertical welds. Cost: $2,500
Cost of Welding Courses for In-Depth Study
While most welding students are looking for courses that they can practically apply for quick use in the field, some may have a more long-term view of their study, perhaps preferring courses that can help make them foreman or project managers.
For example, an associate's degree in welding at a community college may cost anywhere from $5,000 to $30,000, depending on if you are paying in-state or out-of-state tuition. These programs typically take two years to complete and will expose students to a wide range of welding related courses.
Some larger universities will offer four-year bachelor's degrees in welding. These programs will cost between $40,000 to $100,000, depending on tuition residency classification. While more expensive, these degrees will give graduates a leg up for entry-level jobs with the potential for more rapid growth within a welding company.
Final Thoughts
In summary, if you're interested in enrolling in a welding course, either for your own knowledge or to find a job in the field, expect to pay between $300 to $100,000. The final cost of the program or course you enroll in will depend on the skillset or certification you wish to achieve.
---
Here are some of my favorite tools & equipment´s
Thank you for reading this article. I hope it helps you find the most recent and accurate information for your welding project. Here are some tools that I use daily and hope you´ll also find helpful.
There are affiliate links, so if you do decide to use any of them, I´ll earn a small commission. But in all honesty, these are the exact tools that I use and recommend to everyone, even my own family. (NO CRAP)
To see all my of most up-to-date recommendations, check out this resource that I made for you!
Best Overall
Recommendations
+ Great Products & Services
+ Approved
+ Save Thousands of Dollars