Starting your own welding business is ambitious and rewarding, even if you are planning on using it as a side hustle. The start-up process can be daunting, though, as many businesses will flounder. If you take these 11 steps for starting a welding business, you stand a much better chance.
How do I start a welding business? I have identified an 11 step process for starting a welding business:
Obtain Necessary Qualifications/Certifications
Evaluate Your Market
Ensure that your skills are not outdated
Build experience as an independent contractor
Find a good welder for professional use
Set up your shop
Go mobile
Find good accounting software
Track customer requests
Market your business
Play to a Niche Market
Each of these steps will be described in further detail below. I hope that you will find this article informative in catching you up to date on what successful welding businesses are doing right.
1. Obtain Necessary Qualifications/Certifications
You probably originally learned how to weld from a family member. Then you may have reinforced this primitive skill set by taking a variety of shop classes at your high school. Still, the industry tends to demand proof of official certification.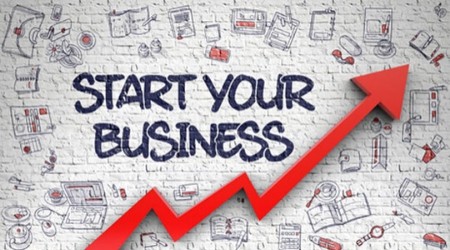 Official certifications can be earned through the completion of courses at local vocational schools or junior colleges. These programs offer the opportunity to expand your skillset and knowledge at a low cost, especially when compared to the costs of attending college to obtain a 4 or 6-year degree.
Vocational schools offer detailed coursework or a wide array of welding methods including:
Shielded Metal Arc Welding (SMAW)
Metal Inert Gas Welding (MIG or GMAW)
Flux Core Arc Welding (FCAW)
Tungsten Arc Welding (TIG)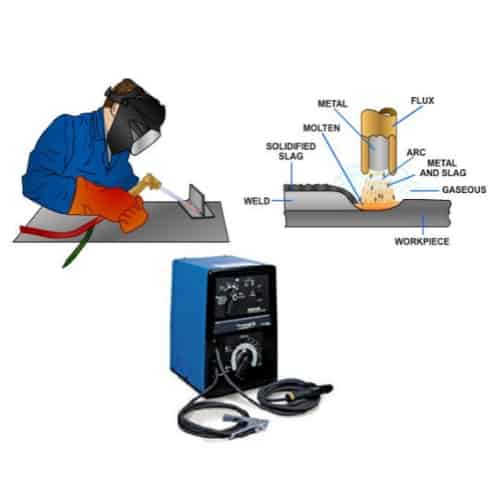 The professional certifications available to welding students in the United States include:
American Welding Society (AWS) Certification
American Society of Mechanical Engineers (ASME) Certification
American Petroleum Institute (API) Certification
Obtaining at least one of these certifications in conjunction with a certification will confirm that you are an expert in the techniques that you will later market as being services that you provide. It is recommended that you start out with the welding methods that you are most comfortable with and then gradually progress from there. Being a jack-of-all-trades type of welder is not necessarily a desirable character trait.
Related reading: How To Become A Certified Welder In California? – All Facts
Before you attempt to start your own business, take yourself under-wing as an apprentice with a more experienced welder. This way, you can gradually learn how to operate a welding business. You may even put yourself in a position to eventually inherit a company rather than having to set out on your own right away.
2. Evaluate Your Market
It cannot be understated how important this step is. You must know what kind of market you are getting yourself into before you start buying equipment. It goes without saying that a welding company in urban New York is going to serve a much different sector than a professional welder on the plains of Texas.
You are probably already pretty familiar with what types of service requests welding companies in your area fulfill. However, you are still encouraged to do further research to find out what the market demands are in your area. If you read the news, you may have heard that skilled young welders are in high demand. This does not translate to success for every welder, though, because some may not be in tune with the market in their area.
There are a couple of ways that you can find out which specific services are in highest demand in your area:
Visit the websites/social media pages of the local welding companies, see what services they provide
Look at the classifieds to see if there are many people looking for welding services
Brainstorm how you can set your company apart from
Be willing to think outside the box. Adding a twist to the way your company offers services can help give you a leg up on the competition. One example of a unique approach could be in the way you do pricing. Consider rewarding consistent customers with discounts if they bring in 2 or more projects for you to work on at the same.
Related reading: 7 Easy Tips To Save Money Welding
3. Make Sure That Your Skill Set Is Not Outdated
Your company will likely not be very profitable if you are not up-to-date on modern technology. Despite reports of high demand, the U.S Bureau of Labor Statistics (BLS) only projects 3% of the total growth in the industry between 2018-2028. This is not to refute all those news articles telling us that this is a promising industry.
Rather it serves as a word of caution that the industry is changing rapidly, as is the case in nearly all of the trades occupations. The BLS notes that welders trained in the latest technologies are destined for success. A fledgling welding company needs to research which industries are expected to grow.
The BLS projects an increase in demand in:
The repair of aging infrastructure
The construction of power generation facilities
The repair of transportation equipment
There are also many emerging technologies that seek to improve the efficiency of welding. It has been reported that many companies are switching from stick welding to TIG welding, or even more advanced wire technologies. There exist modified MIG welding processes such as RMD (Regulated Metal Deposition) that specifically improve weld quality and efficiency on stainless steel.
Pulsed MIG welding is a modernized variant of MIG welding in which the electrode never touches the weld puddle. This can be accomplished via manipulation of the electrical output of the machine. One of the major beneficiaries of this system is that it should be able to accomplish the task of producing a splatterless process that will be able to successfully run at a lower heat input than the spray or globular transfer materials.
Related reading: What 3 Important Skills are Listed Under Welder – All You Need To Know
4. Build Experience as An Independent Contractor
It is suggested that you start out as an independent contractor with a clear specialty. A good example of a welding specialty may include repairing farm and construction equipment. Having a full understanding of the local economy and industry demands is a critical step in being able to get off your feet those first few years.
Before you bite off more than you can chew, learn how to operate the business as a one-man show before moving on to hiring your own crew. This is the common practice in the industry, as you will want to ensure that you can drum up enough business to adequately pay staff before expanding.
4.1 Form A Legal Entity & Register for Taxes
If you want to start a company, it is recommended that you register as a Limited Liability Company (LLC). It is simple and straightforward to set up an LLC, although specific regulations regarding how to form one will vary from state to state. Establishing an LLC gives you quite a few options, including the ability to list profits and losses on the personal tax returns of the owners.
You will also need to register to pay taxes. Even independent contractors have to pay taxes in accordance with Form 1040, per the IRS. You are encouraged to look into this before you are up and running. Otherwise, you may find the Internal Revenue Service pursuing a penalty against you. This one of the beginning steps in making your business an official legal entity.
5. Find A Welder for Professional Use
Once you have established a list of which type of welding you would like to specialize in, you can start your hunt by looking at what's available online. You are encouraged to look at classifieds to find used equipment online. The start-up costs can be quite high if you decide to buy all the new equipment.
If you are starting a business from scratch, you might consider searching for a quality MIG/Flux Core Welding Machine. This type of welding is among the simplest to master. It is also a highly versatile piece of equipment that can be used to weld anything from a variety of mild steels to galvanized steel. The flux core welding method can also be used outdoors, thanks to gasless technology.
For professional-level quality, you can't go wrong with a Tungsten Inert Gas (TIG) setup. TIG welding is one of the most challenging methods of welding to learn. There are not many welding operators out there that are skilled enough at TIG welding to do it in a professional setting. This is significantly different from the MIG/Flux Core Welding setup that many DIY operators use.
What is TIG Welding? >> Check out the video below
TIG welding produces a clean weld that is ideal for projects requiring precision. The electrode is not consumed during the process. The consequence of this is a high-quality weld that is compatible with thinner materials that are generally difficult to weld properly with most methods.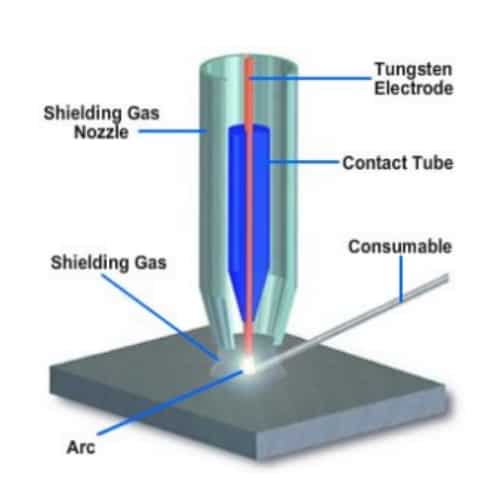 TIG welding can be used to weld more types of metals than any other type of method, according to Tulsa Welding School. It is capable of being used to weld steel, bronze, nickel, magnesium, brass, aluminum, copper, and even gold. TIG welding is a great setup if you plan on offering welding service on automotive parts.
Related reading: How many types of welding machines are there and their uses?
6. Setting Up A Welding Shop
As you are already aware, there is much more to starting a welding business than just simply buying a welding machine. Here you will find a brief checklist of the equipment (other than the welding machines themselves) you need in a professional welding list. This is not an exhaustive list, but it should give you a good idea of what you should be looking for.
Safety Equipment
Proper safety wear will keep your eyes protected from the blinding light and your skin protected from hot sparks and damaging UV and infrared radiation.
Items Include:
Safety is of utmost priority, particularly when you are operating a place of business that needs to meet OSHA workplace regulations. Safety is always an aspect of the process that is easy to overlook until you get burnt from a stray spark or wake up with "welder's flash," which is basically sunburn in the eye.
Related reading: Is Welding Expensive? Breaking Down the Costs in 2020
Exhaust System
For your safety, your shop will need some kind of an exhaust system to carry away potentially dangerous fumes. This can include an advanced ventilation system with a fume hood. You are also encouraged to invest in a series of blowers and fans near your welding table to carry away gases.
One such fan is the Vevor Utility Blower Fan. This high-velocity floor fan will certainly do the trick. You should especially consider using this fan as part of your ventilation system if you are welding galvanized steel. Essentially any metal product intended for outdoor use is probably galvanized. This includes pipes, fences, and outdoor tables, among other items.
Welding Table / Workbench
A sturdy welding table or workbench is the backbone of any welding operation. You will find that many projects need a sturdy table. As soon as you start shopping around, you'll notice that welding benches come in a wide range of sizes with many including a number of add-one or accessories.
Any table used for welding purposes must be made of steel in order to be fire-resistant. Keep this in mind if you do indeed decide to make your own welding tables for your shop.
I personally recommend looking into a table with adjustable legs. The adjustable legs will save you from a lot of aches and pains after welding all day.
One of the most popular adjustable welding tables is the Eastwood 14 Gauge Plated Adjustable Welding Table. One of the best features of this table is the three slots on the table surface that make it easy to clamp down a piece of work. The table can also be set at three different angled positions. The table only weighs 30 pounds, but it can hold up to 350 pounds.
Related reading: How Tall Should a Welding Table Be?
Angle Grinder
A quality angle grinder is another worthwhile investment for welders, whether they are professional or DIY hobbyists. Angle grinders are necessary to be able to smooth out welds. Nobody likes the looks of a weld that hasn't been cleaned, even if the structural integrity is there.
The DeWalt DCG414T2 angle grinder comes with a kickback brake built-in to ensure safety in the event that the blade becomes pinched, stalled, or bound up. This angle grinder also comes with a battery system that automatically changes voltage when you change the tool that you are using.
7. Set Up A Mobile Welding Unit
One of the most effective ways to drum up interest in your welding business is to purchase/convert a truck to serve as a mobile welding unit. It provides you with much-needed exposure in those early days of the company.
You will also run into a variety of circumstances in which you will need to go repair a piece that the customer is unable to bring to you. There is no better way to win a Rolodex of customers than being able to quickly mobilize to the site and repair the issue.
For this reason, it may be recommended that all start-up welding operations start out as mobile welders for a couple of reasons:
Easy company exposure
Operating costs that are relatively low
You can get yourself a larger shop once you have earned the funds to do so
Interestingly enough, mobile welders actually tend to make more money than those who stick to the shop. This is because most mobile welders are their own bosses. Mobile welders are also able to work their way into a niche market, as is evidenced by the story of Jerry Hubert from Wisconsin, who travels from dairy farm to dairy farm in his area. Hubert dominates a local market where there is little competition.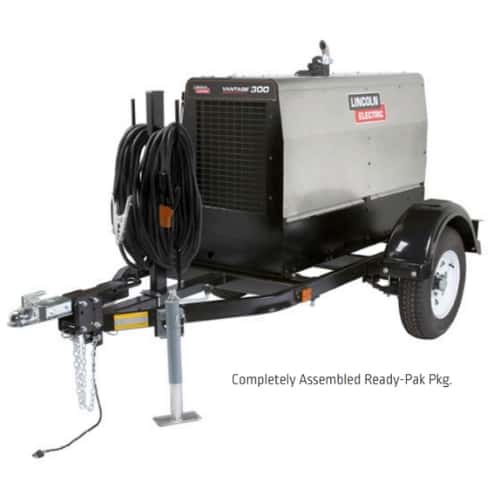 One potential downside to the mobile approach for welding start-ups is the fuel costs. You also need to make sure that you have a vehicle that is dependable. Hubert reports traveling about 60 miles a day. You are also encouraged to use a vehicle that has four-wheel drive as you may have to traverse tough terrain to get the site of the problem.
Related reading: How Much Does an Average Lincoln Welding Machine Weight?
8. Find Accounting Software for Your Welding Business
The balance sheet for a business can get out of hand quite rapidly. We suggest that you invest in user-friendly accounting software that will make it easy to keep track of cash flow as well as the flow of inventory, such as your supply of welding electrodes.
Xero accounting software is one such accounting program that has been designed with the start-up business in mind. The software has been consistently named one of the top accounting software packages for start-up operations thanks to its simplicity. You will be able to track both cash flow and inventory flow with this program.
Xero accounting software allows the user to keep track of the bills that need to be paid.
The program allows you to make customized invoices with your company name and logo on them. The app also makes it easy to make a contact list with all of your customers' pertinent information. You can track which customers have paid you for your work and which ones have yet to pay.
9. Track Customer Requests
You will also need a convenient way to track your customers' work orders and whether you have been able to fulfill their requests yet or not. This will provide you with the information you need when determining whether or not it makes sense to hire another welder. If service requests start piling up, then that's a good sign that it may be time to at least explore the option of adding to your staff.
Your workflow tracking program can be as simple as an Excel spreadsheet where you input data relevant to the service request. Track how long it took you to complete the task and how much you charged.
If you stay disciplined enough to input the data for every customer, you should be able to come up with realistic goals. There is an old adage that says, "under-promise and over-deliver." I am not saying that you should exaggerate how long it will take you to complete a task.
You should, however, be able to say with some confidence how long it will take to complete a task. You will come off as more trustworthy if you can communicate realistic goals and then smash them out of the park.
A good way to show that you care about customer service is to formulate some kind of survey that the customer can take. It shows that you value your customers' input and are willing to make changes to improve your services.
10. Market Your Welding Business
One of the most difficult aspects of starting up a successful welding business is being able to stand out in public. Fortunately, we live in a day and age when the workforce is aging, and young contractors are in high demand.
It can still be hard to get the word out about the services you offer. One way you can gain exposure is to create social media pages for your business. You are encouraged to post many photos and videos showing off your work (make sure that you can prove it is your work). These efforts will go to show that you truly can stand behind your work.
You may not like social media yourself, but you should realize what the opportunities it has to offer. According to a 2018 Pew Research Survey, 68% of adults report using Facebook at some point. 73% of adults report using YouTube.
You should also develop an official web page for your business utilizing SEO techniques, as is recommended by Universal Technical Institute. SEO stands for "Search Engine Optimization", which means that you will develop your website in a way that your website will appear as one of the top hits when a local customer does a search query.
SEO involves adding keywords that you think potential customers will be using. If you are located in the Springfield area, you would want to make sure that your website clearly mentions that you are located within the Springfield area. Then when customers search "welders near Springfield", your business should come up as one of the choices.
It is recommended that you also create separate web pages on your site for each service that you offer. For your welding business, you may consider creating separate pages for a variety of services offered, such as "Construction Equipment Welding", "Farming Equipment Welding" and "Automotive Welding".
11. Consider Starting Out as A Niche Welding Shop
You should be choosing quality over quantity when it comes to deciding the number of different services that your welding business will provide. Be very cognizant of your specific skill set. You may be well-experienced at some welding applications, while still needing a little time to master other types of welding.
While you are in the early stages of planning your welding business, you need to decide which type of welding shop you want to set up:
A General Welding Business
A Niche Welding Business
Most welding shops fall under the umbrella of a "general welding business", according to Startup Manufacturing Business Ideas 200. A general welding business is one that you would be able to call upon to perform a wide range of repairs from fixing a broken gate to restoring a rusted away lawn mower deck.
A niche welding business only provides a few specific services. An example of a niche welding business is a shop that specializes in repairs on construction equipment. A niche welding business has the opportunity to make more of a profit than a general welding business, provided that they do a superior job in one specific area.
There are several reasons why the niche business model might be more successful than a general one:
Less competition, general welding contractors might be pretty common in your area
More opportunities to connect to customers who will keep coming back
Less equipment needed
Lower Marketing Costs
The lower cost-benefit is one of the most convincing parts of playing to a niche market. You can easily waste a large sum of capital trying to become a company that can service every single need that your customer might possibly have. This would be equivalent to being a restaurant with a menu as heavy as a brick. You'll be impressed until the food comes out, and it's shockingly dull. Remember this mantra: quality over
How much does it cost to start a welding business?? >> Check out the video below