Welding gloves are an essential part of your work wear, but if you have ever shopped for a pair of welding gloves, you're bound to discover that there are a lot of things that you should consider. More than a thousand different types of welding gloves are available, making the choice difficult enough to paralyze you.
How do you choose the perfect pair of welding gloves? You should know what type of welding job you're doing and work from there: it will determine what type of material, safety features, and required characteristics of your chosen product.
What types of welding do you do, and what materials are the best for each one? Can you use leather gloves for welding? And how exactly do these products protect you? You will learn all about how to choose welding gloves right here.
What Are Welding Gloves?
Welding gloves are personal protective gear that helps keep you safe from scratches, cuts, and burns while working. To find the best welding gloves, you must consider what's stated in the ANSI Standard Z49.1 and the type of welding you are going to do. You should also consider the materials used in making the gloves.
What Is ANSI Standard Z49.1?
The American National Standards Institutes Standard Z49.1 lists down the various safety standards for welders, cutters, and those working in similar fields. The ANSI Z49.1 requires all welders to wear protective gloves that are flame-resistant. 
These gloves should be in good condition, dry, and able to protect welders from electric shock.
Related reading: Personal Protective Equipment for Welders – PPE | List, and Requirements
How to Choose the Right Welding Gloves
To make it easier to buy the perfect pair of welding gloves, you should first know what kind of welding you will be doing. From there, you can narrow down the material that will be suitable for that kind of welding job.
Related reading: How to Start & Grow A Welding Business In 11 Steps
The rest of your considerations are going to be easier:
Thread – What type of thread is used for the stitching, such as polyester or Kevlar?
Fit – Will you want a comfy or a snug fit? What is your preferred length?
Lining – What lining material will you prefer? Will you want one that is thick or something that is a bit less bulky?
Other considerations will be a matter of personal taste.
Would you prefer a leather or fabric hem?
Do you need fully welted welding gloves?
Do you need welding gloves that have a gauntlet cuff?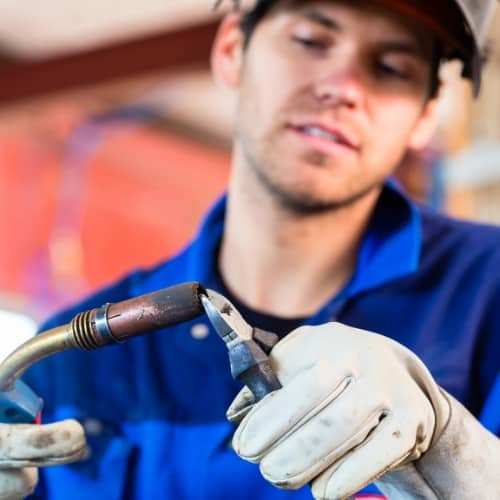 What Type of Welding Are You Doing?
You are mainly doing three types of welding: metal inert gas (MIG) welding, stick welding, or tungsten inert gas (TIG) welding. MIG welding uses electricity to fuse the metals together.
Gloves used for MIG welding are bigger and are heavily padded at the back.  These also offer protection to keep you from being electrocuted.
MIG leather gloves like this one from Hobart uses cowhide split-grain leather. The durable material has a flame-retardant cotton fleece lining that protects your hands from the sparks produced by MIG welding processes.
Related reading: 9 Different Types of Welding Processes & Their Advantages
TIG welding is the most effective when it comes to techniques. It doesn't produce too much heat or sparks. Gloves used for TIG welding fit snuggly and are smaller than MIG welding gloves. 
They are very flexible, as well, allowing you to move your hands freely. Because heat resistance is not as important, TIG welding gloves often have thinner padding than MIG welding gloves.
Products like the Defiant Metal TIG Welding Gloves use goatskin to give you the protection you need but also uses cotton and denim as a lining. It's thinner and more fashionable.
This particular pair of welding gloves has reinforced patches for those places that are easily worn out as well as Kevlar stitches.
But if you're looking for something that professional TIG welders use, get the Lincoln Electric Grain Leather Gloves. They are flexible and lightweight but keep your hands protected even with heavy-duty welding work.
Stick welding works the same way as MIG welding, but this type of welding is used for heavy metal structures. When choosing gloves for stick welding, you should buy ones that can provide you with extreme heat resistance.
You can buy MIG welding gloves and use that for stick welding jobs, like this Lincoln Electric Traditional MIG/Stick Welding Gloves.  This product has excellent heat resistance with its top-grade leather material and cotton liner.
It can easily guard your hands again heat, spatter, sparks, flames, and other hot stuff.
TIG Gloves: Choosing the Best Pair >> Check out the video below
What Are the Features You Should Look for?
Generally, welding gloves should be able to protect you from extreme heat, electric shocks, and getting injured.
As such, it should have excellent heat insulation and thickness that can keep your hands safe from sparks, molten metal, and splatter.  These can severely burn your skin and might even prevent you from handing your welding equipment correctly.
A good welding glove will have the right thickness to help prevent burns. These gloves will not deform when it comes in contact with hot materials.
If you are working with electricity when you're welding, you will also want to ensure that your welding gloves can protect you against electrical shocks. It should also be water and moisture resistant. Further, your welding gloves should be resistant to punctures and tears.
This will help ensure that it keeps you safe from cuts and scratches when you're handing metal pieces.
Other Features and Characteristics That You Should Look for in the Perfect Welding Glove
Aside from heat, shock, and injury protection, you should choose a welding glove that is flexible enough to allow your hands to move freely. Welding can be a complicated job, and you will need full control of your hands or fingers to weld safely.
Further, welding gloves should be comfortable to wear. Make sure that you choose gloves that fit correctly. Most of the time, welders tend to take off their gloves when it becomes uncomfortable, exposing them to avoidable dangers.
Welding gloves should also be durable and long-lasting. Some people will need to wear welding gloves daily, so durability is critical. Your welding gloves should also resist getting cut, torn apart, or punctured.
The Right Fit Matters
Even if you have the best welding gloves made with the most durable materials, you will not be adequately protected is the fit is wrong. Awkward, stiff, and bulky welding gloves can be a problem. Making sure that your gloves fit just right will help you get the bead right as well.
The right fit allows you to move your hands, wrist, and fingers freely and gives you a wider range of motion.
It's Not Just About the Protection
Most people think that they are buying welding gloves to keep their hands and wrists safe. But that's not all your welding gloves should do. Keep in mind that welders often do a lot of tasks before and after the welding process itself.
Ideally, choose welding gloves that have a good grip and allows you to do some finger work, such as adjusting screws on a vise grip. You should be able to keep your welding gloves on while doing other stuff, to minimize the chances of you forgetting to put it on when you start welding.
Another thing you should look into is glove supports. Your welding gloves should be firmer where your pinkie is, as well as the back of the hand.
Materials
Can you wear leather gloves for welding? Yes. In fact, you should choose welding gloves that are made of leather and other similar materials that can provide the protection you need.
Leather Welding Gloves
Leather gloves are more suitable for welding because it can protect your hands best while also allowing you to move freely.
It is very resistant to heat: it can withstand temperatures of up to 400 degrees Fahrenheit before it burns.  If tanned with chromium oxide, you can expose the leather gloves to temperatures of up to 500 degrees Fahrenheit.
Around nine out of ten leather gloves are tanned with chromium oxide, so you can get away with handling something that is more than twice as hot as boiling water.
Your hands are well protected as well, even when you splatter molten steel or hot debris on your leather gloves.
There are two types of leather welding gloves available:
1. Split leather
2. Top grain leather
Split leather material
Leather is usually thick. That is why when you use it as a material for your gloves, it needs to be split into two. The bottom part is called split leather, or suede.
Split leather welding gloves are very flexible, allowing your hands to move freely. What is more, they are naturally water-resistant and have strong puncture-resistance.
Top grain leather
The top part of the hide when you divide it in half is appropriately called top grain leather, and it looks gorgeous. However, top grain leather is usually more expensive than split leather. It is also less durable.
Types of Leather According to Where It Was Sourced
Leather comes from different animals, such as cows, pigs, and deer. Each one is different and has several benefits.
Cowhide is a commonly used type of leather. This durable and heat-resistant material is versatile and can be used for a wide variety of products, but it is mostly found in MIG welding leather gloves. For example, the Spantik Genuine Cowhide Leather Welding Gloves is perfect for MIG and stick welding. It is very comfortable to wear with its cotton lining but still provides flame resistance of up to 932 degrees Fahrenheit.
Pigskin is an excellent material if you do occasional lighter-duty welding. It is exceptionally durable and moisture resistant, but it does not hold up to extreme heat quite well. This is why gloves like the Black Stallion BSX BM88 Xtreme Pigskin MIG Welding Gloves uses pigskin and combines with a cowhide back. The cowhide protects your hand from heat, while the pigskin allows you to be more comfortable.
Deerskin is probably best for those who want top-notch protection while also believing that gloves do not have to be uncomfortable. This material is very comfortable to touch and can be very supple and pleasant to the feel. Deerskin gloves follow the mold of your hand over time. It's also resistant to extreme temperatures. Products like the SKYDEER Premium Genuine Deerskin Leather Suede Hi-Performance Welding Gloves give you that elegant and premium feeling. It's soft but durable and offers maximum heat resistance and comfort.
Elk skin is perfect for those who want their welding gloves to last a long time yet are very comfortable to wear. Elk skin is thick and is often used for stick welding gloves. Products like the Black Stallion Revco Flame Resistant Elk skin Stick Welding Gloves are fire-resistant and has a Dupont Nomex lining and Kevlar stitching, so it keeps your hand safe even with the extreme heat of stick welding.
Other Types of Welding Glove Materials
Aside from leather, you can also choose welding gloves that are made from other materials. There are rubber gloves that can provide protection from electric shocks and moisture. 
There are also cotton gloves that can be lightweight and flexible.
Moreover, there are aluminized welding gloves that can help keep your hands protected from extreme heat. 
Aluminized gloves use other materials such as cowhide or elk skin with a layer of aluminum on top that reflects the heat radiation, keeping things cooler for your hands.
For example, this John Tillman and Co 822L Leather and Aluminized Welding Glove with Gauntlet Cuff may be a bit more expensive than other welding gloves, but it's aluminized back helps keep your hands from getting too hot.
These being said, you should not buy leather gloves that are made with synthetic leather, polyurethane, PVC, and other forms of plastic. These can melt or ignite when exposed to open flames.
Lining and Other Materials Used for Other Components
One of the other things you need to think about is what kind of lining your welding gloves have.
Foam
Foam linings have an air barrier and act as a cushion. These linings are lightweight and soft to the feel. The John Tillman and Co 750XL is an elk skin glove with a combination of foam and cotton lining. These materials help it stay in place, so your gloves do not slide off your hands when you work.
DuPont Kevlar
Kevlar linings provide excellent heat protection and are very durable. These linings are also very versatile. The Superior 370GFKLL Precision Arc Goatskin Leather TIG Welding Glove has a Kevlar lining that allows you to have an excellent fitting glove that doesn't affect your touch sensitivity while protecting your hands from extreme heat.
Jersey
Jersey linings have moderate heat protection. It is the most affordable lining available.
Wool
If you need a lining that dries quickly and has excellent heat protection, choose wool. According to this page, wool is an excellent choice because it's not too expensive.
However, wool can be rather thick, and the fit may not be as snug as you want your gloves to be.  Products like the Steiner 0403W-L High-Temperature Welding Gloves are lined with wool. 
Together with the cowhide, the Steiner 0403W-L can easily withstand extreme temperatures of up to 800 degrees Fahrenheit.
Pile and Cotton
Pile and cotton lining feels soft to the touch. It's a breathable lining that can help air circulate all around the gloves. Inno Stage MIG/Stick Welding Gloves have a cotton lining inside that makes it comfortable to wear.
Do you need fully welted welding gloves?
Welts are thin and tiny strips of leather that are sewn over or into the seams. This helps to protect the stitches from sparks and splatter that may melt or burn.
Therefore, fully welted welding gloves means that your gloves are more durable as the seams are better protected.
However, if you are looking for something a bit easier on the budget, get a partially welted pair. Partially welted gloves are also a good choice if you have Kevlar threads for the stitches.
Do you need welding gloves that have a gauntlet cuff?
A gauntlet cuff is a small piece of protective material that can protect the forearm and wrist. Welding jobs that have a lot of splatter will need gloves that have a gauntlet cuff.
Why Do You Need Welding Gloves: What Are the Hazards That You Should Know of?
Why do you need welding gloves? Make no mistake about it: welding is a dangerous job.
According to this site, around 1 in every 250 welders will suffer a fatal accident on the job. Another study shows that nearly all welders (or approximately 99.3 percent) have witnessed an accident happening in their workplaces. Most of these accidents are minor, however.
The thing is that the most prevalent accidents are preventable by wearing welding gloves. The study found that the most common injuries are:
86.1 percent witnessed injuries to the different body parts, including the fingers.
78.6 percent said that they saw a co-worker suffering from eye injuries due to sparks.
86.1 percent said they saw a welder getting burned while working
Thankfully, there is personal protective gear that you can use to keep yourself safe. Welding gloves are there to protect you from injuries, burns, and electric shocks.
All in all, there are three types of safety hazards that welding gloves protect you from, thermal, mechanical, and electrical. Thermal safety hazards can come from spatter or sparks. 
Sparks can ignite combustible materials that are in your work area. And it can land on your hands and other parts of your body that are exposed.
Sometimes, you should be aware that your welding equipment can easily ignite any fuel or gas, causing an explosion. Aside from wearing gloves and other required protective gear, you should also ensure that the area is adequately ventilated.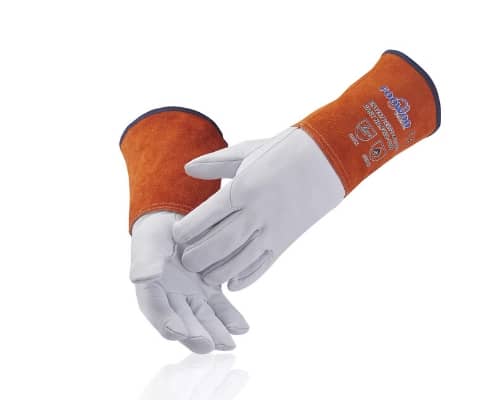 When you are welding, you come in contact with hot metals that can cause severe burns. Remember that any exposed skin may be burned in the process, but it's your hands that are most likely to get burned. Wear gloves and leather jackets.
Related reading: Can Welding Really Cause Sunburn? Effect On Skin and Eyes
What's more, there are times when you are working that the metal you're handling will slip. There are quite a few welders who had their fingers or two crushed between two metals or objects. Others also suffer from getting cuts, especially when handling sharp metals.
If you are arc welding, then you should know that this process brings with it another kind of danger: electric shocks.  Arc welding uses electricity to meld metal together.
Federal rules require employers to waterproof all outdoor worksites when using arc welding. Welders should also be highly trained, and they need to know how to use the equipment they have and make sure that everything is correctly cleaned and connected.
How to Keep Yourself Safe with the Right Welding Gloves
Putting it together: welding gloves can help you avoid common injuries and accidents while welding. According to this factsheet from the SAIF Corporation, you should always:
1. Wear the most appropriate welding gives for whatever cutting or welding processes you are using.
2. Wear long-sleeved leather gloves.
3. Make sure that your welding gloves are dry.
You should also ensure that your welding gloves are in tiptop condition. If it has holes in them, or if they look like they are ready to come apart at the seams, you should really replace them because these worn out and tattered gloves will not provide you with the protection you need.
How Heat Resistant Should Your Welding Gloves Be?
It's essential that you know how hot things are going to be when you're working. Knowing just what kind of temperatures to expect can help you decide on welding gloves that can keep you safe.
According to this site, you should consider that if you are welding at over 90 amps, then your welding gloves should have Kevlar stitching. If it goes over 125 amps, then your gloves should have cotton insulation.  You will need a stronger insulation material when the heat goes up to 250 amps.  
Safeopedia also recommends choosing a welding glove that features a reflective material at the back or buying one with a backhand pad if the heat goes over 500 amps.
Related reading: How Many Amps Do I Really Need for a MIG Welder?
Again, it will go back to the type of welding job you are doing. If you go for MIG or stick welding, you should put a lot of importance on heat resistance. But if you're doing TIG welding, heat resistance doesn't really matter all that much.
Cleaning and Caring for Your Welding Gloves
Remember that to be safe, your welding gloves have to be in tiptop shape. Fortunately, the best welding gloves come with instructions from the manufacturer. These directions will tell you how to clean your welding gloves, as well as how to care for it.
Be sure to follow these to the letter.
Making It Simpler: Choosing the Best Welding Gloves Every Single Time
At the end of the day, you will be buying welding gloves to protect your hands from heat, from getting burned, and from getting cut. With all the choices out there, it's easy to get lost and pick the wrong pair of welding gloves.
Always choose the perfect fitting gloves for your welding work.
To wit, MIG and stick welding jobs need more heat protection, which means you'd need welding gloves made with cowhide or deerskin leather. It should be lined with Kevlar or wool.
You can also opt for one that has aluminized backs and longer sleeves to get the most out of your welding gloves. MIG and stick welding gloves tend to be thick because it is necessary to shield your hands from the extreme heat, the splatter, and the sparks.
TIG welding jobs, on the other hand, require gloves that protect you from electrical shocks. Choose welding gloves that are water-resistant and dry quickly. As long as you keep this in mind, you can choose the perfect welding gloves for every job, matching your preferred styles, and within your budget.
Lastly, no matter what material, stitching, and other features you choose, you should always make sure that your welding gloves are durable.
Not only are these welding gloves subjected to the roughest work conditions, but you will also be using it every day.
Low-quality welding gloves will easily get worn out, making it unsafe for you to wear. So you end up buying more frequently. Invest in a high quality and durable pair.