For years, the welding community has been thought of as a strictly male professional and while you think that would have largely changed today, you would be incredibly wrong.
Statistics in 2018 proved that 94% of all welders were male, meaning that only 6% of the entire welding population were female. Not to mention that only 8% (regardless of gender) are black.
We think everyone can agree that this should indeed change. Right?
So, to help out the age-old fight to give everybody a fair and equal chance at success in whatever industry, field, or trade they decide to enter into, here is a list of 7 black female welders you should know:
1. Eugenia Powell Deas
If you are a history buff, you may well have heard of Eugenia Powell Deas before since she worked in the Charleston Naval Shipyard throughout World War II.
But if you have not heard of this amazing woman yet, and this is all new to you, then settle in, because she is an incredible lady whose story should be known by everyone.
Eugenia Powell Deas was born on September 21, 1924, and grew up in McClellanville, South Carolina. Sadly, her mother died when she was just over seven months old so her grandmother stepped in to raise her.
Later on in life, her father remarried and stripped Eugenia away from her grandmother in McClellanville and took her with him to Charleston. Here, she began to cook and clean for him and his wife. At this point, you wouldn't be blamed for thinking that Eugenia Powell Deas was extremely sad. But the opposite is true.
An interview between her and an anonymous interviewer stated that she said she was happy because she wanted to work hard.
During her time living with her father, she managed to finish twelfth grade which was a fabulous opportunity for her. After this, she began working at Charleston Navy Shipyard as an electric welder (as we briefly mentioned earlier).
This in itself is an amazing achievement, however, Deas had to do all of this with the continuous racism of her time.
She would weld onboard the ship and ensure holes and such were closed to stop the boat sinking and tanks from leaking.
She worked here for two years — yes, all while racism and sexism were happening around her. While she was working at Charleston, all the other African-American women would cook and clean, but she was a self-proclaimed tomboy who never wanted this life for herself.
At this point in history, women were supposed to cook, clean, and take care of their families. But, Eugenia Powell Deas set out to do exactly what she wanted to, and nothing less.
One man decided he wasn't going to hire her — i.e. one of the best welders at Charleston Navy Shipyard — because she was a woman and she "couldn't do the work". But she completely surprised him by picking up the rod and starting the weaving technique right in front of his eyes. That told him!
Oh, have we mentioned that she did all these brilliant things while raising nine children? Yep, you read that right. Nine children. That is no easy feat.
So, you can see now why we had to tell you all about Eugenia Powell Deas. She is someone you can't leave this world without knowing. Whether she was being one of the best welders in the shipyard or at home with her children, she did everything exceptionally well.
I recently wrote an in-depth article about famous female welders, have a look at it: 6+ Famous Female Welders – All Facts You Need To Know
2. Gladys Theus
Much like Eugenia Powell Deas, Miss Gladys Theus was also an African-American welder on the West Coast.
Although we don't know as much about her life as we do with Eugenia Powell Deas, we do know that Gladys Theus was one of the fastest welders in her area. While you might be thinking that this probably went unnoticed during these times, it was not.
When she worked at a plant (Kaiser Company Permanente Metals Corporation) in Oakland, she was given praise that ultimately said "she is one of the fastest and most efficient welders".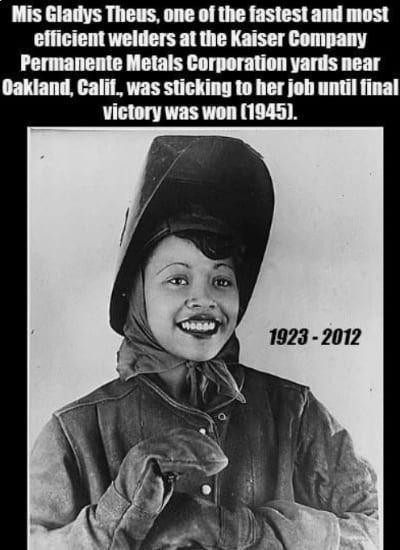 From an interview with her at a later date, she said that she believed that her country was becoming closer and closer to VE and VJ Days every time she welded a Naval ship. She was a welder who was nothing but proud to have advanced so amazingly in her career.
Related reading: Can Females Be Welders? This Is How
3. Pa'Trice Frazier
Pa'Trice Frazier, currently 34 years old, is an African American master welder who is known for encouraging the younger population of black women to enter into this industry.
While she is known for her TIG welding, it has to be said that she can turn her hand to almost any type of welding project. Yep, she is that good.
But let us take a look at her story to see how it all began.
Her welding journey started in 2008 when she was just 22 years old. Pa'Trice Frazier was sitting reading a newspaper with her grandmother in New Jersey. One of the articles inside was about how the United States of America will see a drop of 200,000 welders by 2010.
This caught her eye immediately so she dedicated some time to research this further.
Upon delving into this topic, she realized that only a few welders across the country were black, and an even smaller number were female.
Try as she might, she just couldn't find any stats on the number of black female welders in the United States of America.
The number was pretty much non-existent so nobody bothered to report on it (sadly, even in today's times, they still do not).
Related reading: Yes, There Are Female Welders – Percentage In the Welding Industry
Pa'Trice Frazier knew right then and there that she wanted to do something to change the statistics and the inevitable drop in certified welders.
Fast forward to 2010 (2 years after she read the article and did some research) Pa'Trice Frazier was a certified welder. And yet, it was still 6 whole years before she ever met another woman in her field. That is insane, to say the least.
In a recent interview conducted by Lauren Schneiderman at The Philadelphia Inquirer Pa'Trice Frazier said that she "moves off of numbers".
Related reading: The Top 10 Types Of Welding Certification
She also admitted to being intimidated by the sheer number of men working in her field but after a while, she realized that it was the guys who were intimidated by her. That changed it all for Frazier.
Within that same interview, she talked about how welding classes in the Cumberland County Technology Education Center she enrolled in shortly after reading the aforementioned newspaper. Her experience shows that she was the only female in them.
While she lived in Philadelphia after graduating from the center, she found it pretty difficult to get jobs independently as her area was largely upended by labor unions.
Related reading: How Much Do Female Welders Make? Female Welders Salary
So, she decided to grab the bull by the horns and moved to Georgia (Atlanta, to be precise). Here, she was assisting on all sorts of exciting projects like bridges, sleek frames for touchscreens, and so much more.
By far though, her favorite part was making the handrails on the stadium where the Super Bowl was held in 2019. If you were there, just know that you got to see her magnificent work first hand (you lucky duck!).
During her time working with the company in Atlanta, she specialized in TIG welding (otherwise known as tungsten inert gas welding). For those who aren't familiar with this particular method, it is the most difficult kind of welding which is used mainly on engines, thin metals, and precise art (masterpieces might be the more appropriate term here).
Related reading: Is Welding a Hard Job? All Facts You Need to Know
Her amazing career has not left her Georgia though! She decided to move back to New Jersey so she could realize her dream of starting her very own welding business. To keep the money coming in while she was setting this up, she was hired by Cavo Design-Build where she helped redo the Independence Seaport Museum.
I recently wrote an in-depth article about How to Start & Grow a Profitable Welding Business in 11 Steps, have a look at it.
Today, her business is called Weld Jointed. She regularly posts on her business' Facebook page promoting female empowerment, choosing welding as a career, and more.
She now wants to continue to teach welding, as well as continue to spread the words to females out there that you can enter this career — and it will be incredibly worthwhile.
All we have to say is, what a truly inspiring woman.
4. Anna Bland
Miss Anna Bland was among the 1,000 black women who worked across the four Shipyards owned by the Kaiser Company from 1943 to 1944.
Specifically, Anna Bland was hired at the Richmond Shipyard No. 1. Here, she mainly worked on building the SS George Washington Carver. Without her and a few others, this just would not have been possible at all.
It is clear that she made a real difference in her field and played an extremely important part in the construction of said ship.
5. Josie Lucille Owens
Josie Lucille Owens is another African American woman who worked on the Liberty Ship, SS George Washington Carver alongside Miss Anna Bland who we just talked about.
As far as we can see, no one really knows much about this fantastic lady. But what we do know is that she was a trainee during this time. She would likely have been supervised while she worked on this very important ship.
However, all the pictures we have seen denotes that Josie Lucille Owens was extremely good at what she did.
6. Josie Dunn
This amazing African American lady, unfortunately, left this world in 2016 at the age of 98. But that does not stop her from making our list today. She was hired by Boeing — in fact, she was one of the first black women to be hired by this company — and stayed working there for around 38 years.
Let's take a little look at her life, shall we?
Born in Oklahoma, Josie Dunn was raised by a family who had very little in the way of money, but everything in the way of the heart.
When she turned 24, she decided to move to Seattle since she found out that African American women were being hired by Boeing to take part in an important United States of America war job.
It was all thanks to President Franklin Roosevelt, who ordered that there would be no more discrimination in contractors and African American leaders who put the pressure on Boeing to make this change. Thus, Josie Dunn received her chance to break out of Oklahoma and do what she wanted to.
You may well remember the famous white woman on the poster, flexing her muscles saying "You Can Do It". We bet you are picturing it in your head now, right? Well, following this, Mrs. Dunn was named "Josie the Riveter" by her peers.
She carved a new path for herself during her time working at Boeing and participating in many projects that were integral to the outcome of World War II. Josie Dunn also managed to raise a family and became a true heroine in Seattle's black community.
7. Lou Annie Charles
Brilliantly, Lou Annie Charles' aunt is Mrs. Josie Dunn who we just talked about! Even more surprising is they actually ended up working together at Boeing (but we will get to that).
Much like her auntie, Mrs. Annie Charles is from Oklahoma, specifically, Muskogee. She was educated by the NYA or National Youth Association when she was 19 years old so she could join the workforce during World War II.
Lou Annie Charles didn't quite surpass her auntie in her number of years working for Boeing since she left after 32 years. Although, that is still a good run (we think so anyway)!
Nowadays, she can be found living in the house she built with her husband in 1956, looking after the grandchildren, and doing her bit for her community.
The Bottom Line
While there aren't many African American female welders in the industry, the ones who are present make their mark.
References:
https://museumonmainstreet.org/content/life-female-welder-during-world-war-ii
https://www.bringinghistoryhome.org/fifth/unit-2/activity-4
---
Here are some of my favorite tools & equipment´s
Thank you for reading this article. I hope it helps you find the most recent and accurate information for your welding project. Here are some tools that I use daily and hope you´ll also find helpful.
There are affiliate links, so if you do decide to use any of them, I´ll earn a small commission. But in all honesty, these are the exact tools that I use and recommend to everyone, even my own family. (NO CRAP)
To see all my of most up-to-date recommendations, check out this resource that I made for you!
Best Overall
Recommendations
+ Great Products & Services
+ Approved
+ Save Thousands of Dollars