A career in welding combines technical skills with creative art. Welders can usually get jobs in several industries like construction, maintenance, manufacturing, aerospace, auto repair, ships, in addition to artistic-based industries. Welding is also an integral part of several sectors of the economy including oil and gas, military, farming,
Although welding is in high demand, African Americans represent about 8% of the total American welders today, while White Americans represent the majority. If you're considering a career in welding, keep on reading to learn more about this industry.
How Diverse Is Welding?
The gender diversity in welding is still quite low, with women making up only around 5% of the welding personnel.
Despite this, there have been successful black female welders throughout history, such as Mary McLeod Bethune, who founded the National Council of Negro Women and advocated for women's rights, and Madam C.J. Walker, who became the first self-made female millionaire in America through her hair care products.
These women faced discrimination and segregation but still achieved notable accomplishments. Nonetheless, the welding profession still lacks diversity today, and there is a need to encourage more people from different backgrounds to pursue careers in welding.
Famous Black Welders
There have been many successful black female welders throughout history. One notable figure is Eugenia Powell Deas, who worked as an electric welder at the Charleston Navy Shipyard during World War II and raised nine children while achieving professional success despite facing racism and sexism.
Gladys Theus, another black female welder, was known for being one of the fastest and most efficient welders at the plant where she worked.
Pa'Trice Frazier, a master welder, is also promoting diversity in the field. African-American women have played a significant role in the history of welding, despite facing discrimination and segregation in accessing job opportunities.
In fact, in June 1943, African-American women were shown working as welders in the defense industry in New Britain, Connecticut, marking a significant shift from domestic service jobs.
Black Welders Association
New Opportunities for Black or African American Welders
White males have always dominated the welding industry. However, an expected shortage in the supply of welders might change that.
According to the American Welding Society, there will be a shortage of 400,000 welders by 2024. The main reason is that most of the welders on the market are becoming too old or are currently retiring. New welders aren't able to replace them fast enough because they need a lot of education and training.
Welding is essential to the American economy as it represents an integral part of several industries. In the 1940s, Black or African Americans began to take part in this industry as the demand for welders increased in World War 2. Women of different ethnicities were also introduced to the job market as certified welders who could participate in industrial progress.
Related reading: 7 Black Female Welders You Should Know.
Nevertheless, the numbers still show that the industry is still dominated by older white men who can't keep up with the current demand for welding. As a matter of fact, the average age for an American welder is 55 years old, where only 20% of welders are under the age of 35.
Experience and training matter, but welders also need to have the mental and physical abilities that allow them to work safely with their equipment. As a result, younger people are required to fill the gap in demand that affects the overall growth of the American economy.
Related reading: What 3 Important Skills Are Listed Under Welder? [Must Read]
Some people aren't even aware of welding as a career option. This is why the American Welding Society is working with several high and junior high schools to teach students about new career options.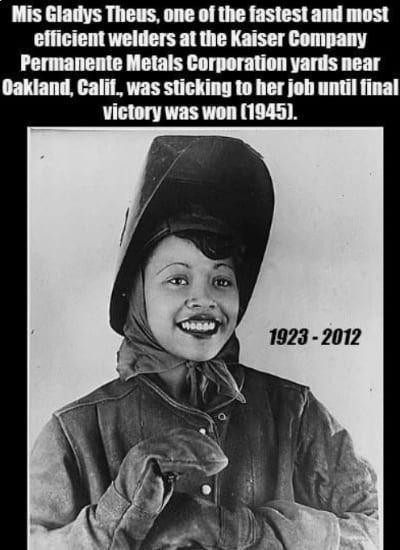 African American Inspirations
Some African Americans aren't aware of this shortage because no one keeps up with their contribution to the industry. However, some people like Pa'Trice Frazier took the decision to join this industry and become a master welder in 2008. As she realized that welding is currently a monopoly, she knew she could make a difference by diving in and making a place for herself.
I recently wrote an article about 6 famous female welders, have a look at it.
This was adequately paved by pioneers Blackwell and Thurston, who became the first certified African American welders in 1977, after studying at Texarkana College. Before that, some African Americans took part in the industry, but they weren't certified and didn't pursue higher education, the same way these two did.
The Story of Pa'Trice Frazier >> Check out the video below:
Blackwell explained that confidence is an essential asset for a welder, as sometimes the welder is the only one on the team. With proper education and training, a welder can travel and land a good job anywhere in the world.
Young people might not be aware of how significant welding is, although it affects almost everything we use. Welding is needed to build houses, cars, trains, ships, airplanes, and recreational vehicles. It is also part of the film industry and entertainment business as it's needed when stadiums, showrooms, and arenas are built for concerts, matches, and other purposes.
Related reading: Where Do Welders Work?
On a household level, welding is essential in plumbing, HVAC systems, and installing fences. It's used in manufacturing kitchen appliances, TV sets, computers, smartphones. and game consoles.
The truth is that wherever you look, you can see the work of an experienced welder.
African American youth should consider these opportunities when they're thinking about a future job.
Things look promising, as the President of Texarkana College Dr. Jason Smith explains that the number of African Americans who enrolled for the welding course increased by 12%. With a bright future ahead, the shortage in welders might be covered by African Americans who are ready to conquer this industry.
Why Should You Consider Welding?
If you're thinking about your future career, welding can be a good option for several reasons.
Related reading: How Long Does It Take To Learn Welding?
How Do You Become a Welder?
If you enjoy working with your hands, welding might be the right job for you. However, you can't become a welder overnight. Welding involves the use of flames and several dangerous tools that should be handled with extreme care. If you really want to become a welder, you have to take courses, practice, and get acquainted with the tools before taking on a real job.
A welder's job is to join two pieces of metal together to build or repair something. There are different types of welding, divided based on the tools and the techniques used to stick the metal pieces together. A welder has several responsibilities.
Related reading: Do Welders Make Good Money? Highest Paying Welding Jobs
To become a successful welder, you need to follow the following steps:
Some people don't just stop there and continue to study to obtain a Bachelor's degree in welding. You can't work in this field without a certificate, as welding is connected to several industries that affect the safety of people.
Frequently Asked Questions
Here are a few common questions people often have about welding:
What Are The Highest Paying Welding Jobs?
With an annual salary of $300,000, underwater welding is the highest paid in the industry.
However, there is an extensive training program that welders must go through before they are certified to perform underwater welding.
Who is The Best Welder In The World?
Anton Kamenskikh is considered as the best welder in the world in 2019 (according to the Art Cup International Welding Competition)
How Long Does It Take To Learn Welding?
BY taking classes in a welder training program, you can learn welding in less than 6 months. For more info, read this article.
Wrap Up
Welding is a crucial industry that affects several parts of the American economy. However, this industry is no longer dominated by white males, as more African Americans are trying to take part in order to cover the future shortage in welders.
Becoming a certified welder is an excellent career choice because it allows you to work in several industries. Proper education and training are crucial to help you become a certified welder.
However, you need to be confident and serious about your job, so you can advance and become an expert in the industry.
Recommended reading
For more helpful articles about welding please check out our articles below:
>> How To Become A Certified Welder In Illinois?
>> How To Become A Certified Welder In California?
>> How To Become A Certified Welder In Pennsylvania?