You can learn about welding in high school, or even through the internet. But knowing some tricks doesn't make you particularly gifted. Talented welders have to stack up on experience and knowledge, both of which aren't easily found.
Who is the best welder in the world? Well, according to the Arc Cup International Welding Competition (ACIWC) Anton Kamenskikh is considered as the best welder in the world in 2019. However, there are many talented welders around the world. Today, we'll explore the lives of some of the most talented welders, including meaty details about their careers. Hop in!
Who Is the Best Welder in the World?
The Arc Cup International Welding Competition is considered one of the biggest welding international competitions. Hosted in China in 2019, it featured 300 professionals from 10 different countries.
One of these countries was Russia. The country was presented by a team of 19 welders, all of whom had earned awards from different competitions before. Among them was Anton Kamenskikh, a gas and electric welder with indisputable talent.
Kamenskikh won the champion title in the most prestigious category: Manual Arc Welding. Two years earlier, in 2017, he'd won a smaller prize. It was first place at an excellence contest at a local labor festival.
Who Is the Best Welder in the USA?
As of 2019, there are an estimated 404,800 welders in the USA. The number isn't going to decrease any time soon: the welding industry is only expected to grow more.
Looking at more than 400,000 welders, there are bound to be some exceptional talent lying around. Some of those with talent may not be famous, but we could only find those who made it to the news. One of them is Chandler Vincent.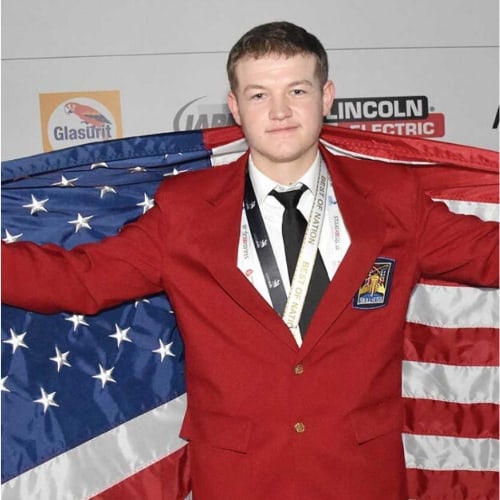 Finding the Best Welder in the USA
It's a familiar story. With an aversion for high school, the classroom wasn't Mr. Vincent's natural habitat. He was even on the edge of dropping out. That was before he'd found one class he liked: welding class.
This is how he ended up going to Uintah Basin Applied Technology College (UBATC) for an associate's degree.
It wasn't long before Mr. Vincent started winning competitions. He started with his native state's SkillsUSA competitions, and then made his way into the SkillsUSA WorldTeam. Now a participant, he got to travel Abu Dhabi, UAE with an 11-person team.
Mr. Vincent didn't win a medallion at WorldSkills Abu Dhabi 2017. However, he was named as Best of Nation as he earned the highest overall score in his team.
Becoming the Best Welder in the USA
It's certainly no easy task. To become the US representative at WorldSkills, Mr. Vincent adopted a grueling work ethic: for 15 or 16 hours a day, he would work, work, work.
During his training for the competition, Mr. Vincent had no salary to earn. He lived off nothing, having gone without having an income for two years.
He'd even burnt himself to the point where he required hospitalization. Nevertheless, the training was much more enjoyable than anything else, so much so that he often forgot to eat or sleep.
Yet, no one can deny that his effort paid off. At only 21, Chandler Vincent is considered an undeniably gifted welder.
Related reading: Highest Paying Welding Jobs
Where Do the Best Welders Go?
In the US, the surprising lack of welders is a problem. Many veteran welders have passed retirement age, and there just isn't enough young meat in the game. And it's not just because of American culture's emphasis on the importance of four-year degrees.
Related reading: Are Welding Classes Hard? What Should You Expect? expect
After all, many welders are underpaid. On top of that, they have to go where the money is: areas where they can get paid well, and where their income would actually have considerable purchasing power.
However, skillful welders can find exciting jobs in different industries. It can be distant places, like offshore rigs or Bakken oil fields. But that isn't necessarily a rule: satisfying job opportunities for knowledgeable welders can also be found at local fabricators.
There are also other industries. Alaska offers many welding jobs on pipelines. Meanwhile, North Dakota oil businesses are hot spots for welders, as well as West Virginia's aerospace and energy industries.
Funny Quotes
"I'm still looking to find the best welder. The best I've found so far lives in my mirror ;)"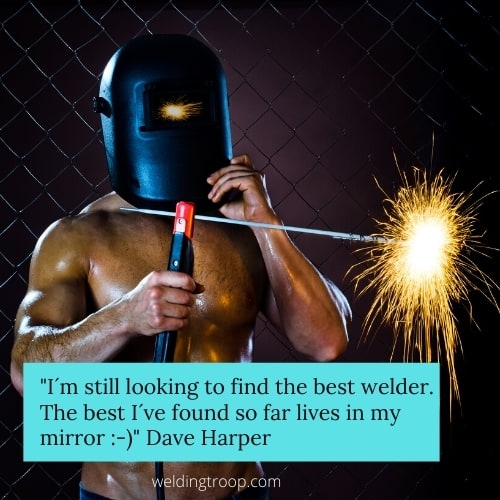 Conclusion
It's true: some of the best welders aren't well-known. However, the likes of Chandler Vincent and Anton Kamenshikh owe their modest renown to their welding skills. Without a doubt, they're some of the best welders in the world.
You don't have to be granted fame in order to be an accomplished welder. All you have to do is to put in the necessary work and effort.
Good luck!
BEST WELDERS .. YOU MUST SEE!!!! >> Check out the video below:
Recommended reading
For more helpful articles about welding please check out our articles below:
Six Famous Female Welders You Should Know [Read This First]
30+ Must-Have Welding Tools And Accessories (Expert Poll)
5 Types Of Welding Joints and Their Use – Complete Guide
---
Here are some of my favorite tools & equipment´s
Thank you for reading this article. I hope it helps you find the most recent and accurate information for your welding project. Here are some tools that I use daily and hope you´ll also find helpful.
There are affiliate links, so if you do decide to use any of them, I´ll earn a small commission. But in all honesty, these are the exact tools that I use and recommend to everyone, even my own family. (NO CRAP)
To see all my of most up-to-date recommendations, check out this resource that I made for you!
Best Overall
Recommendations
+ Great Products & Services
+ Approved
+ Save Thousands of Dollars